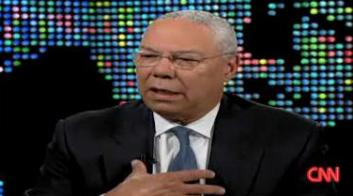 Mediaite has obtained a transcript from former Sec. of State Colin Powell's interview on CNN's Larry King Live tonight, in which Powell comments on the Professor Gates story, as well as Sarah Palin and more.
He seems to take Sergeant Crowley's side in the Gates situation.
Says Powell:
I would say, the first teaching point is when you're faced with an officer trying to do his job and get to the bottom of something. This is not the time to get in an argument with him. I was taught that as a child. You don't argue with a police officer. In fact, in our schools today, in order to make sure that we don't have things escalate out of control and lead to very unfortunate situations, we tell our kids, when you're being asked something by a police officer, being detained by a police officer, cooperate. If you don't like what happened, or if you think that you have been exposed to something that's racist or prejudicial or something that's wrong, then you make a complaint afterwards and you sue him.
Later in the interview, Powell continues:
I think he should have reflected on whether or not this was the time to make that big a deal. But, he's just home from China, just home from New York. All he wanted to do was get to bed… But I still think that it might well have been resolved in a different manner if we didn't have this verbal altercation between the two of them…So, my first teaching point for young people, especially, not for Dr. Gates, that the young people, especially, is, when the police are looking into something, and if you're involved in it in one way or another, cooperate. Don't make the situation more difficult. And I think in this case, the situation was made more difficult.
The interview, which airs in full tonight, is sure to get a lot of attention and replay on the cable and broadcast networks. Powell's comments about being racially profiled himself, Palin (who he calls a "fascinating figure") and Rush Limbaugh (check out some of those here) will resonate.
Here's a clip of his comments:


—–
» Follow Steve Krakauer on Twitter
Have a tip we should know? tips@mediaite.com