Colin Powell Repeats Endorsement Of Obama, Questions Romney's Truthfulness On Foreign Policy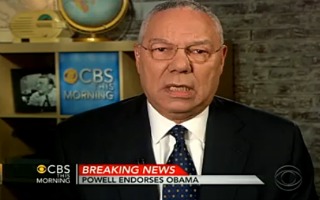 Former Republican Secretary of State Colin Powell shocked the political establishment when he endorsed Barack Obama for the presidency in 2008. Powell appeared on CBS This Morning on Thursday where he endorsed President Obama for a second term in the White House. He said that Obama has confronted the many challenges he faced admirably and he has reservations about Mitt Romney, particularly relating to foreign policy.

"Will you endorse President Obama in his race," asked Charlie Rose.
"I voted for him in 2008 and I plan to stick with him in 2012," said Powell. "I'll be voting for him and vice president Joe Biden next month."
Powell said that President Obama faced a difficult economic situation when he took office and has done a good job stemming the loss of jobs he faced in 2008 and laying the foundations for an economic recovery.
He also expressed concern about Romney and how truthful he has been with the American electorate. Powell said that the Mitt Romney that America saw during the foreign policy debate was not the Mitt Romney that has been campaigning for the presidency these last 17 months.
"Not only am I not comfortable with what Gov. Romney is proposing for his economic plan, I have concerns about his views on foreign policy," Powell said. "The governor who is speaking on Monday night at the debate was saying things that were quite different from what he said earlier. So I'm not quite sure which Gov. Romney we would be getting with respect to foreign policy."
Watch the clip below via CBS:
> >Follow Noah Rothman (@Noah_C_Rothman) on Twitter
Have a tip we should know? tips@mediaite.com