Colin Powell's Office Apparently Said He Did Tell Hillary to Use Personal Email at Dinner Party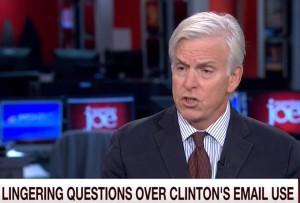 Nothing anyone learns about the Hillary Clinton "Emailgate" controversy seems to have any effect on the Democratic presidential nominee's favorability ratings, but recent revelations could take a bit of a toll on fellow former Secretary of State Colin Powell's reputation. On the heels of a newly-uncovered email that contradicted some of what he's said in the past, it turns out that when Powell denied advising Hillary Clinton to use personal email at a dinner party for former secretaries of state, he was denying something that he, himself, supplied.
Powell said, last month, that he never told Hillary anything about personal email until a year after she started at State, and through a spokesperson, denied talking about it at a dinner party that's described in Joe Conason's new book. Or should I say, Powell's spokesperson said he had "no recollection" of the dinner conversation at the home of former Secretary of State Madeleine Albright, an important detail given what Conason said Tuesday morning:
I think around the time she was sworn in, and that's the time of the e-mail, January 2009, and then the dinner at Madeline Albright's house that I talk about in the book happens months later, when she invited former secretaries to come and advise the new secretary what to do, and Powell repeated his advice there at the dinner, use your personal email, it was transformative for the department, and the problem of when he tried to deny what was in the book, I had an e-mail exchange with his principle assistant, a woman named Peggy Cifrino, who told me when the dinner was and what he said at it.
That's right, the source of the anecdote that Colin Powell's office denied knowing about was Colin Powell's office. In fact, according to Peggy Cifrino's bio, she is Powell's spokesperson. Former Secretary of State Condoleezza Rice couldn't remember the exchange, either, according to her spokesperson. Maybe Conason should check his email on that one, too.
This is an opinion piece. The views expressed in this article are those of just the author.