Colmes Battles Fox Guest Over Military Benefits: 'Using This as Excuse' to Blame Obama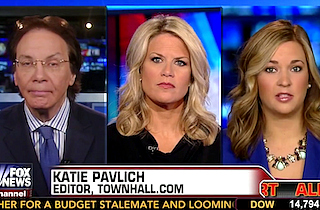 Fox News analyst Alan Colmes and Townhall.com Editor Katie Pavlich clashed over the denial of military death benefits to soldiers on Wednesday morning, with Pavlich arguing that the White House should take responsibility for the decision, and Colmes responding that she was using the issue to score political points.
"That decision made in the heat of all of this shutdown, when you've got the congressional gym open, and other things going on that don't seem to be taking priority, it looks like it could be a 'make sure everybody feels the pain' campaign here," host Martha MacCallum said.
"It's a terrible decision," Colmes said. "I have my own view for who is responsible for the government shutdown in the first place, which may be the bigger issue. But I don't think this part of it should be a political football. Whoever made this decision should be held responsible for making a terrible, terrible choice."
Colmes said he thought President Barack Obama should publicly condemn the decision, but Pavlich doubted he'd make such a statement.
RELATED: Megyn Kelly, Panel Pile on Slashed Military Benefits: Does Obama 'Give a Damn' About the Troops?
"[Obama's] been absent this entire debate," Pavlich said. "The only time we've seen him come out to talk to us is when he is complaining about House Republicans and John Boehner. He's not someone who usually comes out and takes you responsibility. He did not come out for the World War II vets barricaded from their own memorial, at the direction of the White House…I wouldn't be surprised if this came from all the way from the top. If this is the part of 'making it hurt,' the White House has a lot of explaining to do."
"I don't think this is the time to be playing politics on something like this," Colmes objected. "You're using this as excuse to blame the White House, blame the president, blame Democrats. It's inappropriate."
"I simply said he should come out and say something," Pavlich replied. "He didn't say something when the World War II vets were outside of their memorial, in wheelchairs, sitting there in front of barricades, on the Mall. He should come out and talk to these families directly, which he hasn't done. It's been an absence of his leadership for this entire thing."
"That is your opinion and using this an excuse to go after the commander-in-chief, which is an unfortunate way to play politics about something truly important," Colmes said. "We want to play politics, let's talk about who is responsible for the shutdown in the first place."
Watch the full segment below, via Fox News:
[Image via screengrab]
——
>> Follow Evan McMurry (@evanmcmurry) on Twitter
Have a tip we should know? tips@mediaite.com