Colmes Returns To The Factor, Jokes About Couples Counseling, Fights O'Reilly Over Wasteful Spending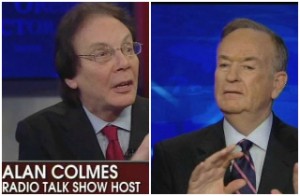 Alan Colmes made his return to Bill O'Reilly's show tonight, a full week after O'Reilly shouted at him and called him a liar. This follow-up was a lot less confrontational, and Colmes dryly opened by thanking O'Reilly for going to couples counseling with him. O'Reilly then got more specific with Colmes about particular programs that O'Reilly argued were just plain wasteful, with Colmes continuing to maintain that President Obama has, despite O'Reilly's objections to the contrary, put forth specific spending cuts.
RELATED: O'Reilly Explains Confrontation With Colmes: I Was Trying To Draw Attention To Obama's 'Economic Madness'
At the top of the show, O'Reilly responded to critics saying he was not specific enough by really getting specific. O'Reilly cited a number of so-called wasteful programs, including one to study the correlation between obesity and homosexuality. O'Reilly rolled his eyes and said, "Let the overweight lesbians go to Weight Watchers if they want to." He also brought up a NASA program spending money trying to figure out what kind of menu could sustain astronauts on a mission to Mars.
Colmes kicked off his appearance by telling O'Reilly, "Thank you for doing couples counseling with me." O'Reilly maintained that Obama has only proposed reductions in spending increases, not cuts. Colmes argued that federal spending has risen under every president, claiming to O'Reilly's disbelief that Obama has overseen the slowest raise of spending rates since Eisenhower.
O'Reilly told Colmes he was sounding crazy, and repeatedly pushed him to say if he's okay with the government spending money on a "Mars menu." O'Reilly sighed and said he's worried about Colmes and other people who seem to be okay with so much wasteful spending. Colmes insisted he wasn't trying to defend any specific program, just the overall record of the Obama administration. Monica Crowley pointed out that all this wasteful spending is forcing the government to cut from more essential services like the military.
Watch the video below, courtesy of Fox News:
—–
Follow Josh Feldman on Twitter: @feldmaniac
Have a tip we should know? tips@mediaite.com
Josh Feldman - Senior Editor