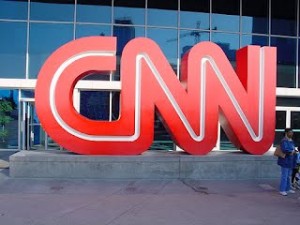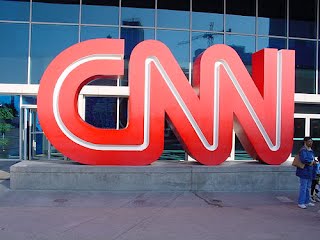 By now it's gotten repetitive to point out that CNN's battling against its struggling ratings. Turner Broadcasting CEO Phil Kent recently admitted he's "very unhappy" about it (and that they've not "put the best shows on the air") — and just this week the network announced it's canceling John King, USA at the end of the month. Given the less-than-ideal circumstances, Columbia Journalism Review's Michael Massing took at stab at diagnosing what's ailing the network. And how to treat it.
RELATED: Turner CEO On Struggling CNN: 'We Haven't Put The Best Shows On The Air'
In a piece entitled "Dumb and dumber," Massing recalls his experience as he tuned back into CNN after a long hiatus of avoiding their programming. From 4 p.m. (the beginning of Wolf Blitzer's two-hour block) until 11 p.m. (the end of Anderson Cooper's second hour), Massing observes, "CNN basically features a succession of babbling anchors interviewing a series of talking heads, with clips from reporters in the field occasionally spliced in. The subjects slavishly follow the national political agenda."
They're particularly fond of milking gaffes for all they're worth, he writes — noting that no one outside the political establishment seems to make an appearance. Massing then proceeded bluntly criticize some of the anchors individually, starting with Erin Burnett (who's surely been unhappy with the many headlines about her ratings dip). "Watching her interview a toxicologist over the tag 'DEA warns of Cannibal Drug,'" Massing writes, "I wondered how she ever managed to get a full hour in prime time."
Furthermore: Cooper's attention is divided between his primetime shows on CNN and his daytime talk show. Piers Morgan is "truly fatuous." Massing highlighted Morgan's fixation with the Queen's Diamond Jubilee and went on to deem him another Larry King, "only younger, smarmier, and more royalist in outlook."
So, what's the network's problem? It's "conventional, unimaginative, repetitive, and—most damning of all—boring." The solution, he writes, is not to go the partisan way of Fox News and MSNBC, as has been a predictable suggestion from others. Instead, CNN should utilize it's massive global resources — of countless anchors, correspondents, producers and bureaus — to do some actual reporting. For a 24-hour network, Massing says, CNN has little concrete news. He suggests emulating 60 Minutes, "whose mix of reporting, investigation, and (alas) personality profiles remains the best news show on commercial TV."
All criticism aside, he notes there is one such show already on the network: Fareed Zakaria's hourlong GPS specials. CNN should have the "conviction" to try more such shows, he says. Because the only way from here is up.
Have a tip we should know? tips@mediaite.com