Columbia Journalism Review: Fox Brings on More Opposition Voices Than MSNBC Does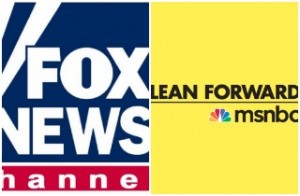 Pop quiz: which cable news network is more welcoming of opposing voices? The answer: Fox News. Oh, some of you may raise a skeptical eyebrow, but a new piece from the Columbia Journalism Review credits Fox News for giving a platform, even when the deck is stacked, for liberals on the right-leaning opinion programs on the network.
The feature contains statements from Tamara Holder, one of Fox News' most prominent liberal voices, and Sally Kohn, who used to be another such voice before she moved to CNN this year. Holder says going on Fox News is good because the network gets great ratings, while Kohn says she doesn't like "preaching to the choir."
Which brings us to MSNBC. Fox News has all sorts of Democrats and liberals, including Dennis Kucinich and James Carville, two very reliably liberal individuals. But what about Fox News' counterpart? Well, the CJR feature says, MSNBC has a few "moderate conservatives" like Joe Scarborough and Michael Steele, and these do not normally lead to big debates of any sort with the hosts.
Meanwhile, on a typical Fox News primetime lineup, you'll have appearances by Kirsten Powers, Juan Williams, Carville, and Alan Colmes, among others, and there have been occasional shouting matches.
But on MSNBC, the barbs come at a much greater distance.
While the liberal hosts of MSNBC often skewer conservatives, the debates happen with villains who are not in the studio: lambasted, by proxy, in news clips. At Fox, they happen in person, with a real-live liberal who is often on staff.
The feature does, however, note that when MSNBC does have conservatives on, things generally go down "without the bluster and hyperbole of the typical Fox News debate."
You can read the full feature here.
[h/t Erik Wemple]
[photo via Fox News, MSNBC]
— —
Follow Josh Feldman on Twitter: @feldmaniac
Have a tip we should know? tips@mediaite.com
Josh Feldman - Senior Editor