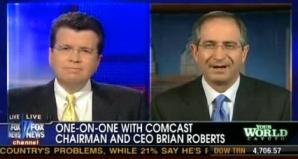 Comcast CEO Brian Roberts was a guest on Fox News' 4pmET show Your World. Of course, Comcast is the company in the process of acquiring NBCU – so, the potential head of MSNBC in the near future.
Host Neil Cavuto didn't hold back in asking about the competing cable network.
Cavuto asked Roberts about the recent Donny Deutsch incident to start the interview. "I don't know about any of that specifics at all," said Roberts.
He also spoke more broadly about the TV company he's looking to acquire. "NBC is running NBC, Comcast is running Comcast, we hope to put the two together this year. We think we have been able to make the case," he said, also noting, "MSNBC and NBC cable and really all of the assets of NBC Universal have been underappreciated by a lot of investors."
But in praising cable, he also praised Fox News:
"USA is still the number one rated cable channel, you guys [Fox News] have done a great job but they've done a lot of great jobs in cable programming as well as NBC and the Olympics. We'll have a lot more to say when we finally get to closing."
Cavuto also asked about RightNetwork: "Hopefully in a thoughtful way we can put all points of view and let the viewers pick and choose from the best content available."
How much longer in the acquisition process can the CEO of Comcast appear on Fox News?
Here's the interview:


—–
» Follow Steve Krakauer on Twitter
Have a tip we should know? tips@mediaite.com