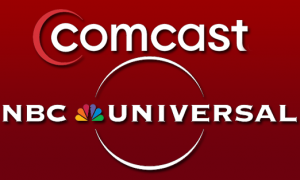 The sale of NBC Universal from General Electric Co to Comcast Corp, which Comcast hoped to complete almost a month ago, looks like it's actually happening this time. According to the New York Times' Michael J. de la Merced, Bill Carter, and Andrew Ross Sorkin, GE reached a tentative agreement to buy Vivendi SA's 20 percent stake in NBC, ending a stalemate that held up the GE-Comcast deal:
General Electric has reached a tentative agreement to buy Vivendi's 20 percent stake in NBC Universal for about $5.8 billion, helping clear the path to a sale of the television and movie company to Comcast, people briefed on the matter told DealBook.

But much remains to be negotiated, these people warned. The Vivendi agreement values NBC Universal at $29 billion, less than the $30 billion or so that G.E. and Comcast had agreed to last month.

Harmonizing the two values, as in so much of the talks over NBC Universal, may take days to do. But people briefed on the matter said the companies are aiming to announce a completed deal by Thursday.
Many free press advocates are balking at the potential deal, saying it would place too much power in the hands of Comcast, already the nation's largest cable and home Internet provider. Bloomberg reports the Obama administration will likely echo such concerns, and subject the merger to intense investigation.
The soon-to-end relationship between NBC and GE could also be awkward for Tina Fey, who lampoons GE's leadership in her comedy show (and awards show darling) 30 Rock, through Alec Baldwin's pompous executive character, Jack Donaghy. The GE-NBC dynamic also proved fruitful for David Letterman when GE first acquired the network in 1986. Now, Fey might have to address the merger on-air to, however slightly, tether her show to reality. And people are curious to see how (or whether) she'll do it: for all the talk of consolidation of media power the current deal could bring, it seems that on the minds of some, 30 Rock's handling of the situation is the most pressing issue. Don't let anyone tell you comedy doesn't matter.
Have a tip we should know? tips@mediaite.com