'Come On, Ed': Carney Scolds Fox's Ed Henry for 'Coloring Outside the Lines' on Benghazi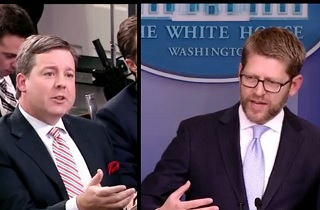 At Tuesday's White House Daily Briefing, Fox News Chief White House Correspondent Ed Henry drew a frustrated rebuke from Press Secretary Jay Carney over what Carney called "coloring outside the lines" in Henry's question, which concerned the immediate aftermath of the September 11, 2012 attack on the US consulate in Benghazi, Libya. At issue were partial transcripts, released by House Republicans, which Henry contrasted with Carney's remarks immediately after the attack.
"There were newly declassified documents released by Republicans on the Hill yesterday," Henry said. "They show that in private testimony to a House panel, some of the President's top military advisors at the time — General Ham, General Dempsey and others — believed within minutes of the attack in Benghazi that it was an attack, probably a terror attack. And yet you know — we've talked about this before — for many days after, the President, but you specifically at that podium, said we did not know whether it was a terror attack. Why — if these military leaders testified to Capitol Hill that they knew it was an attack almost immediately, why did you continue to –"
Carney replied that "of course it was an attack. The facility was attacked. There was never any doubt about…"
"Right, but you said it was a demonstration," Henry interrupted.
"Come on, Ed," an exasperated Carney replied. "I mean, I know there's a desire here to color outside the lines, but this is just not factual."
"But that's what you said. It's in the transcript," Henry protested.
"Of course it was an attack," Carney continued. "It was an attack that led to the deaths of four Americans."
He added that "there has been a lot of reporting on this, and there has been a lot of inaccurate reporting on it — generally speaking, not just this particular case of House Republicans selectively releasing more testimony to outlets so that they can use it for political purposes, but the idea that we were somehow saying it wasn't an attack? I mean, the sky is blue. Up is not down, down is not up. Of course it was an attack."
The transcript from Carney's first briefing, following the attack, contains the following exchange with then-ABC News Chief White House Correspondent Jake Tapper:
MR. CARNEY: Jake, let's be clear, these protests were in reaction to a video that had spread to the region —

Q At Benghazi? What happened at Benghazi —

MR. CARNEY: We certainly don't know. We don't know otherwise. We have no information to suggest that it was a preplanned attack. The unrest we've seen around the region has been in reaction to a video that Muslims, many Muslims find offensive. And while the violence is reprehensible and unjustified, it is not a reaction to the 9/11 anniversary that we know of, or to U.S. policy.

Q But the group around the Benghazi post was well armed. It was a well-coordinated attack. Do you think it was a spontaneous protest against a movie?

MR. CARNEY: Look, this is obviously under investigation, and I don't have –

Q But your operating assumption is that that was in response to the video, in Benghazi? I just want to clear that up. That's the framework? That's the operating assumption?

MR. CARNEY: Look, it's not an assumption —

Q Because there are administration officials who don't — who dispute that, who say that it looks like this was something other than a protest.

MR. CARNEY: I think there has been news reports on this, Jake, even in the press, which some of it has been speculative. What I'm telling you is this is under investigation. The unrest around the region has been in response to this video. We do not, at this moment, have information to suggest or to tell you that would indicate that any of this unrest was preplanned.
At no point in the September 14 briefing does Carney use the word "demonstration," nor does he refer to any "protest" in Libya, nor does he say that the administration "did not know whether it was a terror attack."
According to reporting in the days after the attack, and the more recent New York Times investigation, the attack was fueled by the video in question, and the just-released Senate Intelligence Committee report quotes then-Acting CIA Director Michael Morrell as saying that "the nature of the attacks suggested they did not involve significant pre-planning," and that "the collective assessment of the Intelligence Community remains that the attacks 'were deliberate and well-organized, but that their lethality and efficacy did not necessarily indicate extensive planning."
Have a tip we should know? tips@mediaite.com