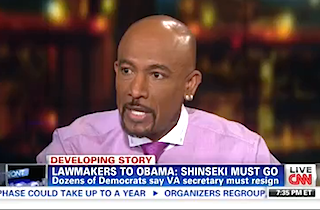 When talk show host and former U.S. Marine Montel Williams appeared on CNN's Erin Burnett Out Front Thursday evening, he began by apologizing to President Barack Obama. But moments later, he was continuing his crusade to make sure something is done to help former soldiers who are currently being denied the care they need from the Department of Veteran Affairs.
"I have to apologize to the president of the United States, myself, right now," Williams began. "I have to do so because yesterday I made a statement about something that he didn't say at the speech at West Point and this has been politicized." He was referring to an interview he gave on Fox News in which he went after Obama for not saying "'I'm sorry for the pain that I've caused you, the families, and I'm gonna fix it today!'"
But while Williams regretted the fact that his comments were being used to attack the president directly, he stuck by the sentiments behind them. He said Obama and Congress need to let those West Point graduates know that they will be taken care of when they come back from whatever the next big war is. "They're trying to send more boys off to die, and we won't even settle the problem here," he said.
Williams went on to employ a gruesome metaphor about cutting the head off of a chicken to explain why simply firing VA secretary Eric Shinseki, as many members of Congress have demanded, will not solve the problem. But when Erin Burnett asked him if he thought Shinseki should go, he answered affirmatively.
"And guess what?" he said towards the end of the segment. "This is our fault. My fault, I'm sorry, your fault. We the people are the ones who got to celebrate this last weekend on Memorial Day on the lives and the body parts left in the field and we don't respect them enough to demand that they get the care that they deserve? Come on!"
Watch video below, via CNN:
[Photo via screengrab]
— —
>> Follow Matt Wilstein (@TheMattWilstein) on Twitter
Have a tip we should know? tips@mediaite.com