Comeback Kid? Chris Matthews Compares Sarah Palin To Former President Bill Clinton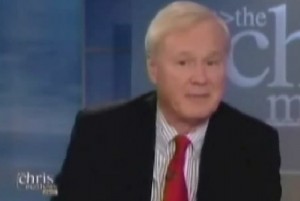 Sarah Palin is everywhere right now: she stars in her own hit reality show, she's promoting a best-selling book and is a frequent contributor to top-rated prime time opinion programs on Fox News. As such, media sites are obligated to cover the highs and lows of Palin's media moments. One such highlight would be Chris Matthews adroit description/comparison of the former Alaskan Governor, saying that Ms. Palin is something of a natural with the press, not unlike former president Bill Clinton.
Here are the closing words to The Chris Matthews Show (transcript via):
Before we break, there's one unlikely Democrat you might compare to Sarah Palin when it comes to being a natural: the generally incomparable Bill Clinton. One clear similarity: moxie. While some mortals might have gone away after that humiliating pounding that Sarah Palin took in 2008, she's been something of a comeback kid herself. Clinton would never call the media "lame steam," but he has had some equally unflattering things to say about the insiders who issued those premature accounts of his demise. During this last campaign, it was Bill Clinton who was the Democrats' counter to Sarah Palin. She was using the campaign for her own future of course. So what was Bill Clinton's angle? He wasn't shy about suggesting the Democrats ought to be missing him.
The prevailing wisdom among left-of-center political analysts is that a Palin run for president would be great news for President Obama's reelection efforts, though Joe Biden notably said that he would not underestimate Ms. Palin. Given that her former running mate, Senator John McCain compared Palin to Ronald Reagan yesterday, it would seem that Palin had a pretty good day yesterday during the Sunday morning talk circuit.
(H/T Newsbusters via TheBlaze)
Have a tip we should know? tips@mediaite.com