Comedian Pete Holmes Is The Newest Late Night Kid On The Block, Will Follow Conan On TBS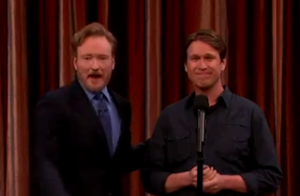 There will be some added competition in late night this fall, when comedian Pete Holmes launches his own, as-yet-untitled show on TBS following Conan. Conan O'Brien, who secured the rights to program the slot after his in his original contract with the cable channel, will produce the show under the umbrella of his Conaco production company.
Holmes may not be a household name for most of America, but his "You Made It Weird" podcast on the Nerdist network has gained an impressive following with over 6 million total downloads. His particularly silly brand of stand-up comedy should make for an interesting match-up with Jimmy Fallon, whose NBC show will likely be his stiffest ratings competition.
The comedian taped pilot episodes with the working title The Midnight Show last August in O'Brien's studio, inviting close comedian friends and prior podcast guests T.J. Miller and Kumail Nanjiani to sit in as guests. The pilot version followed a fairly standard late night format, with a monologue at the top and an interview at the end, but perhaps stood out for the number of pre-taped sketches included.
At 34, Holmes entree into late night mirrors that of his now mentor Conan O'Brien, who took over Late Night on NBC from David Letterman when he was just 30. We can only hope that if O'Brien one day decides to give up his 11pm time slot for Holmes he won't suddenly change his mind and demand it back.
Watch video of a stand-up performance by Pete Holmes on a 2011 episode of Conan below:
(h/t Deadline)
—
>> Follow Matt Wilstein (@TheMattWilstein) on Twitter
Have a tip we should know? tips@mediaite.com