Comedian Ron White Stands Up For Georgia Principal Reassigned After Playing His Bit For Faculty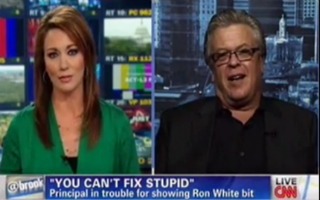 An Atlanta high school recently reassigned its principal, Dr. Marvin Crumbs, after he played a comedy bit for teachers and faculty members at an after-school meeting by Blue Collar Comedy Tour member Ron White on April 9. Crumb's students were outraged by his reassignment and are taking to the internet to protest. Today, White himself appeared on CNN to stick up for the fired Columbia High School principal.

RELATED: Donald Rumsfeld: Americans Are Too Politically Correct When Discussing Radical Islam
CNN anchor Brooke Baldwin read a prepared statement from the school's superintendent who said that Crumb's choice of media was "deemed inappropriate for a professional setting in a school. The principal has been reassigned to another administrative position."
"What do you make of this – I guess – the fact that he has been reassigned," asked Baldwin.
"This is probably one of the most cleanest pieces of material I've ever written," said White.
"You gotta know who Dr. Crumbs is," White continued. "This is a man who's dedicated his life to educating the children of Georgia. This is a guy who showed up – they thought they had an opening for a principal – this man is overqualified for this job…"
When asked by Baldwin how he knew that, White attested "just research."
"For him to be fired for something like this is just an atrocity," White said. "I don't think we have a surplus of fine educators in this country that we can just start dropping them for no reason whatsoever." White said that he intends to hold a rally for Crumbs to help reinstate him and intends to seek him out to play a round of golf with him.
Brooke challenged White to "understand that some fellow educators in that room, men and women, did not" find his bit funny – which includes graphic descriptions of female body parts. White described reassigning Crumbs over this one incident as "backwoods."
"Do you think that our society has a problem laughing things off," asked Baldwin.
"I really don't understand," White concluded. "I can't understand the motivation for letting him go. I don't' think that many people were offended. It was one person's decision to have him fired – not reassigned – fired from the position he was in, and I think that's the person we have to take a look at."
Watch the segment below via CNN:
Have a tip we should know? [email protected]