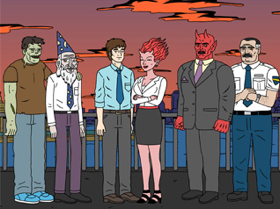 Comedy Central is debuting its new series Ugly Americans— an animated series on the monsters that inhabit, create, and propagate Manhattan culture– on March 17 at 10:30pm. Mediaite was invited to preview the pilot episode of the new series, and if only for its superb navel-gazing it's worth checking out the pilot. Its only roadblock is that a niche comedy about a culture of limited visibility outside itself can only appeal to so many people.
It aspires to be something of an Animal Farm for stereotypical Manhattanites; instead of the communists being pigs and the abused proletariat workhorses, the bosses are devils and the roommates are zombies, with the protagonist with which the audience should identify being the only stable human being of the bunch. It applies every insult you've ever hurled at a New Yorker literally. Surrounding our hero, the earnestly human Mark Lilly, are monsters who reflect their inner traits in their species. His roommate Randall's slavish devotion to attractive women turned him into a zombie. His paramour Callie is manipulative and diabolical, but what else could you expect from the spawn of Satan?
The most commonly existing sidekick in Mark's life is his coworker Leonard, a wizard whose magical powers resemble the uncanny ability of many a disgruntled employee to create ridiculous excuses for his behavior out of thin air. While many would just call in sick to work, Leonard would have to "tend to his children"—which he creates in an instant.  It's the "dead grandmother" excuse taken to its logical extreme.
"Ugly Americans" is a delight for anyone who has experienced Manhattanite culture up close. The hurdle it will have to overcome is whether the more universal jokes will be enough to appeal to people who have not been properly initiated into NYC culture. It's easy to dismiss an animated comedy show about monsters as low-brow (especially one with the aesthetic sensibilities of The Powerpuff Girls), even moreso if the culture it is trying to mock is alien to the viewer. And it's unclear how many Gawker articles about the superficial, self-centered, super-humanly driven characters. The problem is that a large part of what makes the show work is that it's clear the project has no interest in courting viewers that don't "get it." In fact, if it did tried to pander to some lowest common denominator of monster jokes, it would probably flop. Intelligent humor is usually a bad business investment (see Conan O'Brien, Arrested Development), but Ugly Americans' simplistic toilet humor facade might just carry it through while the intended audience gets to enjoy the self-deprecating jokes hidden under the surface.
Check out the trailer below:
Have a tip we should know? [email protected]