Common Ground? Rep. Paul Ryan Shares Areas Of Agreement With Obama Jobs Plan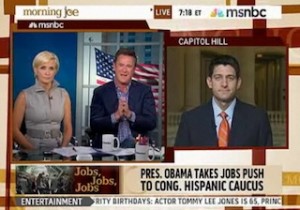 GOP leadership appears to have started something of a coordinated effort to present their alternative to President Obama's America Jobs Act presented last week during an address to a joint session of Congress. Rep. Paul Ryan (R-WI) appeared on MSNBC's Morning Joe today and didn't just deride the White House jobs bill, though he was critical on what he deemed as its "class warfare" political rhetoric. Rather, Ryan presented his own plan and focused on some similarities to the White House plan. Could this be the beginning of a compromise?
Ryan had previously released a video that outlined a three-point plan for reforming tax code. Today on Morning Joe, Ryan suggested eliminating corporate tax loopholes that benefit the top 1%, saying "GE is the poster child!" of such tax code. Co-host Mika Brzezinski asked where there was room for compromise and Ryan did not demur in offering the following candid reply on where he saw common ground:
The infrastructure, I think you were talking about that earlier. That does work, obviously. And we've been planning long this fall for doing our transportation bill. The problem with that is it takes a long time to get that through the pipeline. That's not instant jobs like some people try to market it as. But obviously infrastructure does create jobs. I don't think you can deny that. What we don't like is repeating mistakes.

Look, Bush tried temporary tax rebates, Obama tried temporary tax rebates and they have proven not to create jobs. All this temporary booster shock stimulus didn't work on the stimulus package, didn't work when the last administration tried these things. We don't want to go with ideas that have proven to fail, we want to go with ideas that have proven to succeed. I think tax reform is the key, and what I liked about the president's speech, he had a sentence or two dedicated toward cleaning up our tax system.
Ryan then focused his efforts on another issue of commonality between the GOP and the White House. Though their approach are still very different, they do agree on the need to reform tax codes. In Ryan's esteem, the ultimate goal should encourage small businesses to hire more employees. He also discussed removing tax shelters for "millionaires and billionaires," and yes, Warren Buffett's name was even mentioned.
It made for an interesting segment in which Ryan models the behavior of a responsible "adult," offering reasonable discourse and dismissing the news narrative advanced by the White House that the House GOP is somehow childish in this discourse.
Watch the segment below, courtesy of MSNBC:
Have a tip we should know? tips@mediaite.com
Colby Hall - Founding Editor