Communist Censors Kill Chinese Version Of American Idol Because Of 'Western-Style' Voting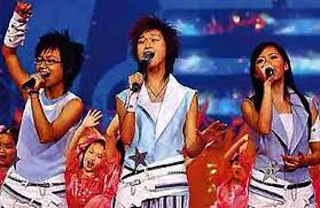 At this point, it doesn't look like American Idol will ever die. Even if we come to a point where Fox needs to develop cloning techniques just so there will still be new, innoffensive singers to compete, as long as people keep watching, then Randy Jackson will continue telling those clones that they are, in fact, da bomb, dawg. That's just the way capitalism works. Success and money means immortality. However, over in Red China, they have a different system and their American Idol counterpart has just been canceled despite once garnering 400 million viewers. The reason? The audience voting style is to "western."
The show in question is called Super Girl and, like American Idol, it's also inspired by Britain's Pop Idol. It's a singing contest which invites viewers to vote for their favorite contestants via text messages, thus contributing to the winner selection. While this contributed to its overwhelming popularity since its inception, it also didn't win any favors with the Communist Party. In 2006, Liu Zhongde from the Chinese People's Political Consultative Conference gave an interview in which he discussed his view that the show should be shut down.
"Behind the Super Girls entertainment lies poison for the youth. Take a look at the youth who are following the Super Girls now. See what state of mind they are in, what direction they are headed. Take a look at how the audiences are watching this program, and you'll find that amid unthinking laughter people have been corrupted. The cultural departments have a responsibility to prevent this corruption; they must strengthen their administration of this sort of program."
How on earth does China have more money than us? Don't they realize that creating products that poison and corrupt young people is the best way to be successful?
Anyway, five years later, folks like Zhongde have gotten their wish.
So, next time you're sitting at home, listening to another bland white guy with a guitar absolutely butcher a Rolling Stones song, and wondering why the heck you're still watching this show, just remember that you're an American and be proud.
Here's a clip of Super Girl. It took me a while to find a good clip of the show because I kept getting distracted watching bits of the 1984 movie Supergirl which is apparently unrelated. More entertaining in my opinion though.
(h/t Reddit)
Have a tip we should know? tips@mediaite.com