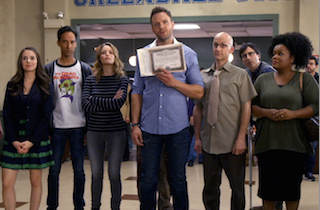 It finally actually happened. Rather than leaving things up in the air and delaying seasons for months on end, NBC decided Friday to officially cancel the massively-beloved, but chronically low-rated Community. The show's five season have been plagued with all kinds of drama, from actor Chevy Chase quitting to showrunner Dan Harmon getting fired and rehired over the course of two years. But through it all, Community has managed to deliver some of the most genuinely groundbreaking television comedy of all time.
Fan tributes to the show, along with outright devastation that it will never reach the pre-ordained goal of #SixSeasonsAndAMovie, have been pouring in on Twitter. And the cast and writers have been offering their gratitude right back to the people without whom this little show that could would have canceled ages ago.
Joel McHale went with a seemingly cryptic hashtag that instantly shot to the top of Twitter's national trending topics. If you're a fan of the show, you'll know what he means:
— Joel McHale (@joelmchale) May 9, 2014
Gillian Jacobs went with a more direct thank you to the cast and crew:
Thank you for the love, best fans in the world. Thank you @danharmon for the best job of my life. #ePluribusAnus

— Gillian Jacobs (@GillianJacobs) May 9, 2014
Yvette Nicole Brown let out some unrelenting positivity befitting her character, Shirley:
Welp, the time has come. #Community has been cancelled. Still, FIVE seasons for a bubble show is MIRACULOUS! Much love to you all! :) xoxo

— yvette nicole brown (@YNB) May 9, 2014
You guys are so awesome! Thanks for all the kind tweets. See, we're okay guys! We all still have each other! #HumanBeingsForLife! ;)

— yvette nicole brown (@YNB) May 9, 2014
Oscar-winner Jim Rash thanked the fans for helping the show get to five seasons, as well as his Greendale colleagues:
Dean an honor. Thank YOU fans. U got us 2 five. & thank you @danharmon @cpmckenna Envious & humbled by ur creative minds. Best job ever.

— Jim Rash (@RashisTVUgly) May 9, 2014
Too much love 4 @joelmchale @GillianJacobs @YNB @alisonbrie @kenjeong @dannypudi @DonaldGlover & entire Greendale extended family & crew.

— Jim Rash (@RashisTVUgly) May 9, 2014
Ken Jeong thanked the fans, Harmon and the cast before turning to Conan O'Brien for some inspirational words:
A most heartfelt THANK YOU to all the Community fans. I LOVE YOU SO MUCH. My life is so blessed because you're all in it. Chang The World.

— Ken Jeong (@kenjeong) May 9, 2014
Thank you @DanHarmon

— Ken Jeong (@kenjeong) May 9, 2014
Thank you @JoelMcHale @GillianJacobs @YNB @DannyPudi @RashisTVUgly @AlisonBrie @DonaldGlover @ChevyChaseToGo #JonathanBanks

— Ken Jeong (@kenjeong) May 9, 2014
"Cynicism doesn't lead anywhere. But if you work really hard and you're kind, amazing things will happen." – @ConanOBrien

— Ken Jeong (@kenjeong) May 9, 2014
And a surprisingly heartfelt Dan Harmon had only positive things to say:
Twitter isn't big enough to hold my condolences and more importantly my gratitude to the best fans, cast and crew in TV history. Excelsior.

— Dan Harmon (@danharmon) May 9, 2014
As for the future of Community, as we learned with Arrested Development, you can never say never. The show was always more popular on platforms like Hulu and Netflix than it was on traditional TV, so you have to think those services, along with Amazon, Yahoo and every other tech company that now produces original content is considering getting in the Community business. If nothing else, embracing this show will produce a massive amount of good will from a group of people that wields real influence online.
If not, we'll be forced to remember the end of Community as it played out in the season five finale, to the dulcet tones of Dave Matthews Band's "Ants Marching."
Watch video below, via NBC:
[Photo via NBC]
— —
>> Follow Matt Wilstein (@TheMattWilstein) on Twitter
Have a tip we should know? tips@mediaite.com