'Completely Misleading': Greenwald Spars With MSNBC's Brzezinski Over Her 'WH Talking Points' About NSA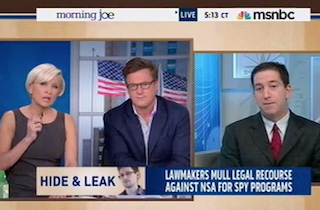 The Guardian's Glenn Greenwald — who's recently garnered attention for stories about NSA surveillance — made an appearance on Morning Joe on Monday, discussing both the leaker Edward Snowden, who recently came forward, as well as the NSA's actions. In debating the legality of those actions, Mika Brzezinski clashed with Greenwald, who called her out for using "White House talking points."
During their conversation, Joe Scarborough noted how Rep. Jim Sensenbrenner (R-WI), who authored the Patriot Act, was among those who took issue with the NSA's widespread surveillance. "How has this administration and the Bush administration expanded the Patriot Act well beyond what the authors intended originally?" Scarborough asked.
The Patriot Act "lowered the standard" for probable cause, Greenwald explained, which is part of the reason it was controversial to begin with. But even its proponents back then could not have anticipated what it's turned into, he argued:
"Nobody had any inkling that the government would ever use the Patriot Act not to target specific individuals and say there's reasonable basis or probable cause to believe there's wrongdoing — but to use the Patriot Act to say, this entitles us to collect records for every single American regardless of whether or not we've done anything wrong."
Brzezinski jumped in to counter that the wiretapping and reviewing emails does require a warrant. "It's not like there's haphazard probing into all of our personal emails," she pressed.
"The White House talking points that you're using are completely misleading and false," Greenwald shot back, noting that a warrant is only needed when the communication is between two American citizens who are both on American soil. "The Senate has been repeatedly asking for the numbers of how many Americans they're doing that to, and the NSA keeps saying — and it's false — they can't provide those numbers. Those talking points you're reading from are completely false, as anybody who has paid even remote debate know over the last ten years."
Stating that she was simply asking a yes-or-no question about legality, Brzezinski quipped that Greenwald didn't appear to want to answer. After a bit of back-and-forth, Greenwald said if we're talking about legality, it's worth noting that Obama's Justice Department "has repeatedly blocked courts from ruling on the legality."
If it's legal, he added, why not let the court say so?
Take a look, via MSNBC:

Have a tip we should know? tips@mediaite.com