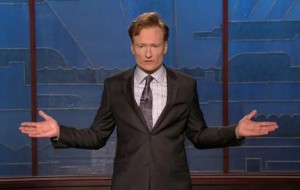 Last night's Conan O'Brien-hosted version of The Tonight Show felt like his last — even Conan didn't seem sure about it. He's on tonight, but who knows for how long. Whatever happens will set off a chain reaction across networks as the TV dominoes fall to accommodate Conan or Jay Leno — or, who knows, both! — somewhere other than NBC. There's a lot of uncertainty, not only for these hosts (who, at the end of the day, are certainly looked after financially), but for their staffs — the writers, producers, camerapeople, house bands, bookers, assistants and everyone else that makes a multi-million-dollar late-night show run.
Mediaite spoke to one of those people — an insider from Conan's "Tonight Show" shop, with knowledge of the situation and an understandable preference to remain anonymous. Here's a very brief Q&A — edited for clarity — about how it feels on the inside of the craziest place in late night right now.
So – tell me what you know.
We don't know nada. Nada.
Nada? Do you know if you will still have a job after the Olympics? If you go to another network, will Conan keep all of you?
Conan has no idea about "keeping" anyone since we don't know what will happen, but he's repeatedly pledged to take care of everyone and has an excellent track record on loyalty.

Was this a group decision, did he ask you for your input, are you all supportive?
It was not a group decision, but it feels like everyone's behind him 120%.

Do people blame Jay or see him as being tossed around by NBC too?
People blame Jay and NBC in equal measures.

Why do they blame Jay? I noted yesterday that Jay has done his best to distance himself from this decision.
The perception is that Jay simply refuses to let go, at any price, even the ones you indicate.

Did you guys help him with his letter? Did you know before he issued the statement?
We didn't know anything until the blog post, and Conan was emotional as he read the letter aloud to us.
It was quite a letter, and last night was quite a show. Are you guys upset or energized?
I think we all have mixed feelings but are proud of Conan and trust him to do what's best for us to the extent of his ability to do so.
Have a tip we should know? tips@mediaite.com