Conan: Letterman 'Completely Rescued Me' from Humiliation, Go Watch Him Instead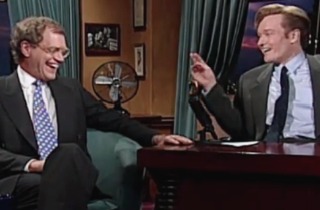 Conan O'Brien recently wrote a moving tribute to David Letterman, but on his show tonight, O'Brien devotes a significant portion of his opening monologue to Letterman and how the late night king basically saved his career.
For some background, Letterman hosted Late Night on NBC following Johnny Carson. In 1991, NBC announced that Carson's successor would not be Letterman, but his friend Jay Leno. Letterman stuck around for a bit before bailing for CBS in 1993. NBC, looking for a young face to follow Leno, brought on a young Conan O'Brien to host Late Night.
And as O'Brien recalled, "I got the shit kicked out of me." He remembered that as one of the worst moments of his career and everyone on his show was worried about being cancelled.
But then, he said, they got a call from Letterman, who wanted to be a guest on the show, which was "like the Beatles asking Maury Povich if they could stop by." But Letterman appeared as a guest with O'Brien in 1994, and basically "completely rescued me."
"If you have ever liked any silly or stupid thing that I've done on TV over the 22 years," O'Brien said, "you must know that it probably never, never would have happened it it weren't for Dave."
He remains amazed that Letterman did that for him and told his viewers they should just go ahead and watch Letterman when his show starts. O'Brien even said he would tell viewers exactly when they should switch over.
Watch his tribute here, via TBS:
UPDATE — 8:15 p.m. ET: TBS also released a clip of O'Brien and guest Patton Oswalt very strongly encouraging people to switch to Dave. Watch here:
[image via screengrab]
— —
Follow Josh Feldman on Twitter: @feldmaniac
Have a tip we should know? tips@mediaite.com
Josh Feldman - Senior Editor