Conan O'Brien Blasts Drudge, Bush, Romney, CNN, The NRA And Chris Matthews At Correspondents Dinner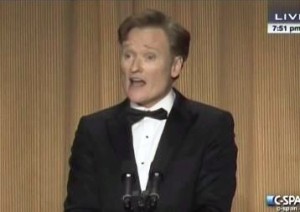 Late night show host Conan O'Brien delivered his White House Correspondents Dinner speech on Saturday night in which he roasted a number of prominent members of the media, journalistic institutions, and politicians past and present. In the speech, O'Brien tore into CNN and MSNBC. He also mocked former President George W. Bush and National Rifle Association CEO Wayne LaPierre. O'Brien also joked at President Barack Obama expense, saying that the presidency has aged Obama significantly. "Your hair is so white, it could be a member of your cabinet," O'Brien observed.

"When you think about it, the president and I are a lot alike," O'Brien began. "We both went to Harvard. We both have two children. And we both told Joe Biden we didn't have extra tickets for tonight's event."
O'Brien congratulated former President Bush on the opening of his library. He said that the new facility has hundreds of documents from the Bush-era, and if you go "you can be the first to read them."
O'Brien mocked CNN's John King for his troubles reporting breaking events following the Boston attacks. "Tonight's dinner was halibut and filet, or as John King reported it: Lasagna and couscous," O'Brien said.
The comedian mocked LaPierre as well, saying that his position as executive vice president of the organization means he is not the lobbying group's chief. "Which begs the question, how freaking crazy do you have to be to be the actual president of the NRA?" O'Brien asked.
RELATED: House Of Cards Spoof Featuring Dem And GOP Lawmakers Mocks WH Correspondents Dinner
"It's amazing to think how much our country has changed in 18 years," O'Brien said, noting the last time he hosted the White House Correspondents Dinner in 1995. "If, in 1995, you told me that in 2013 we'd have an African-American president with the middle name Hussein who was elected to a second term in a sluggish economy, I would have said, 'oh, he must have run against Mitt Romney.'"
"As a late night comedian, I was kind of pulling for the rich guy whose horse danced in the Olympics," O'Brien said of the 2012 presidential election.
"Yes, a lot of online stars are in the room but, unfortunately, Matt Drudge couldn't make it," O'Brien said. "He had a prior commitment to teach a web design class in 1997."
"Some people say print media is dying, but I don't believe it," O'Brien added. "And neither does my blacksmith."
The comedian mocked Washington Post columnist Bob Woodward and his public spat with the White House recently. "Earlier this evening, a waiter asked Bob Woodward if he wanted regular or decaf and he said 'stop threatening me!'"
O'Brien mocked the cable news networks as well. He bashed CNN's ratings collapse, noting that James Earl Jones would now say CNN's tag line, "you're watching CNN," in the form of a question.
"Chris Matthews has the only show where the commercial exists just so they can wipe the spittle off the lens," O'Brien said.
"It's no surprise that Speaker John Boehner isn't here tonight," O'Brien said, noting that the two have had their share of public disagreements. "President Obama and John Boehner are kind of like a blind date between Anderson Cooper and Rachel Maddow. In theory, they understand each other's positions but, deep down, you know nothing's ever going to happen."
O'Brien closed by genuinely praising the president's response to the attack on the Boston Marathon. He said he appreciated Obama's visit to the city and his "helping that city heal."
Watch the speech below via C-SPAN:
> >Follow Noah Rothman (@NoahCRothman) on Twitter
Have a tip we should know? tips@mediaite.com