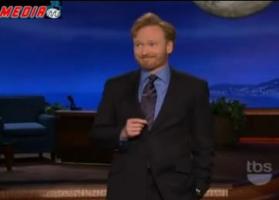 Conan O'Brien made his return to late night TV tonight with the first episode of TBS' Conan. In some ways, the opening monologue of the premiere picked up from where he left off in the two weeks of his former NBC show – a lot of references to his now-ex-employer.
Only now, he's on Twitter.
O'Brien started with a joke about his "2nd annual first show," and transitioned to the social networking tool he's employed since leaving NBC. "Yes, I know what you guys are thinking: 'Hey, it's the guy from Twitter,'" he said.
Then it was to the reason for calling it Conan ("I did it so I'd be harder to replace") and a reference to his dream reference that he talked about on the Tonight Show ("I've dreamed of being a talk show host on basic cable ever since I was 46"). The most direct shot: "It's not easy doing a late-night show on a channel without a lot of money and that viewers have trouble finding. So that's why I left NBC."
Obviously, he had to address the issue, but as Toure noted on Twitter, "Conan's given us like 10 jokes about the past / getting fired. They're working but he can't do them after tonight." We'll really get to see what O'Brien's new basic cable late night show will be like once the focus shifts from fired to funny. Which likely comes soon.
Conan also made a "Brett Favre's penis" joke and the Masturbating Bear made an appearance (although not by name):


—–
» Follow Steve Krakauer on Twitter
Have a tip we should know? tips@mediaite.com