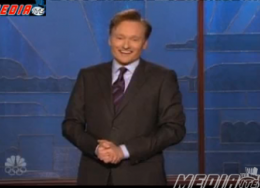 Conan O'Brien is done at NBC. That much seems obvious from the scorched-earth shows he's delivered over the past week — not to mention from the rumors that Jay Leno has re-upped for that 11:35 p.m. spot and Dick Ebersol trashing him in the New York Times. It's sad, because we all know that this is not what he wants, and you can bet behind closed doors he fought like mad for what he's about to lose. But for those of us who have watched this late-night drama unfold for barely longer than a week, it's pretty obvious that he's gone through the various stages of grief, from anger to denial straight through to just not giving a damn.
Almost certainly alluding to Ebersol's comments, Conan talked about how it was getting "a little nasty" in the media. "In the press this week, NBC is calling me every name in the book," said Conan. "They think I'm such an idiot they now want me to run the network."
Yikes. Jeff Zucker won't like that. Nor, probably, will he like Conan selling official Tonight Show merchandise on eBay — like this lovely suitcase, which started at $399.99 and climbed within minutes to over $1000 (right now it's at $999,999, which I think probably is a joke). Nor, I think, will he like how Conan described the suitcase: "This bag is as impenetrable as an NBC executive's skull." Subtle? Not really. Does he care? Not really.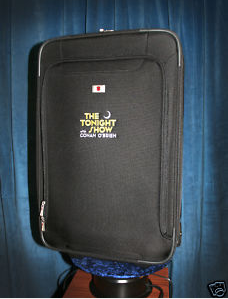 Also not subtle: yet another jab at the bath NBC is taking on the 2010 Olympics. On Monday, he said this: "NBC announced they expect to lose 200 million dollars on the Winter Olympics next month. Folks is it just me, or is that story hilarious?" Tonight, he said this: "100% of the proceeds [from eBay] will go toward bailing out the 2010 Winter Olympics on NBC, which—according to business analysts—has already lost $200 million." Then he and Andy Richter laughed and laughed.
That was the feeling — a little reckless, a little rebellious, like Ferris Bueller crossed with John Bender — and more than anything else, you can tell Conan doesn't care and has no plans to hold back. (Oh, to hear the rejected jokes from the writer's room.) Funnily enough, now that he's gotten here the edge has come off his tone — Leno didn't get a namecheck tonight, and the bitter edge isn't quite as sharp (maybe because Andy's taken on some of it). Whatever it is, it's darn good TV, and that's part of the reason the ratings have skyrocketed this week. "That's nothing," said Conan. "Wait 'til you see what we've got planned for February!' Then he made a mock confused face. There won't be any February.
Have a tip we should know? tips@mediaite.com