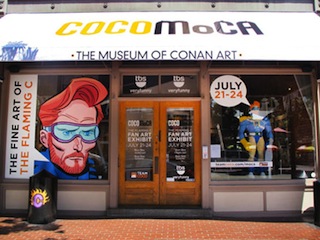 For all of you jocks out there who haven't heard, this weekend is the San Diego Comic Con, the huge, annual convention dedicated to any comic book, movie, TV show, or other form of entertainment that features cool, iconic costumes for overweight cosplayers to ruin. Studios and publishers will be unveiling sneak peeks at their biggest upcoming works, but it turns out that they won't be the only ones showing off art. TBS and Conan O'Brien have opened up the Coco MoCA, a "fan art exhibit" museum of "Conan art."
Now, I know what you're probably asking; What is "Conan art?" Well, it's art that features Conan O'Brien in it. Duh. Don't ask stupid questions.
Team Coco explains the idea thusly:
"The Smithsonian. The Louvre. The Mütter. What do all of these museums have in common? Easy: None of them have enough sweet Coco. Enter The Museum Of Conan Art — a museum FOR the people and BY the people. So whether you're a painter, sketch artist, sculptor, or a Photoshop pixel-pusher, we want to see your Team Coco themed artwork. With a bit of luck, it might end up backstage in the 'Conan' Green Room. Thank you, and good luck!"
Sounds silly, huh? Well, watch the below video of "brick artist" Nathan Sawaya create a life-sized Lego sculpture of O'Brien as his "Flaming C" alter ego and you might not be so quick to judge.
All of us not attending Comic Con will be able to enjoy an online version of exhibit on the official site. Lucky con-goers will be able to see the works in person and they should definitely check it out if for no other reason than being able to claim their pale skin is part of a Conan costume.
(h/t Splitsider)
Have a tip we should know? tips@mediaite.com