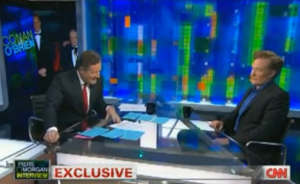 Piers Morgan sat down with Conan O'Brien on Monday night for an hour filled with the late night host's thoughts on everything from his past, to his marriage, to, of course, politics. In one particular segment, O'Brien revisited his past, from the beginning of his career to critics of his late-night debut.
Referring back to a commencement speech O'Brien gave at Harvard University in 2000, Morgan segued into O'Brien's past. After graduating, O'Brien moved to Los Angeles and went to work on a show for a year. Contrary to Morgan's assessment of his self-confidence, O'Brien said, "Anyone who knows me will tell you I never think we're in good shape now. I've never done that."
He went on to note there were many "misadventures," highs and lows, after he lost that job. "When you don't have a job in Los Angeles, there's something about it that's more profoundly depressing than maybe not having a job other places," he said. Morgan concurred, adding, "When it's great, it's the best place to be in the world. When it goes wrong, it's the most lonely place on Earth."
And then he got his big break: Saturday Night Live. From there, Morgan went on to recount O'Brien's success with SNL and his plan to pen his own original sitcom, sans laugh track or audience. But that success was followed by another failure: the pilot was the second lowest-rated television show of all time. O'Brien said part of him was always half-expecting that project not to end well. "You constantly think it's over," he said.
But comedy is a release, he said. "Doing comedy, although it can be scary and difficult, I find more agony in other things," he said. "If someone asked me to make them a sandwich, I would have more fear revolving around making that sandwich and insecurity than I would about doing comedy."
About the criticism following his break into late-night TV, O'Brien said, "At the time, it's devastating" — adding, "I've never thought about my eyes the same way again" (responding to critique of his "beady little eyes").
He went on to talk about how it feels to replace TV legends. "If I had not been myself and had watched Conan O'Brien debut after David Letterman," he said, "I'd have been horrified as well."
Take a look, via CNN:

Have a tip we should know? tips@mediaite.com