Conan O'Brien Was Hiding In The Background Of How I Met Your Mother Last Night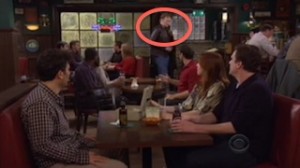 Guys, the most amazing thing happened on How I Met Your Mother last night. No, they didn't meet the mother. That can't happen till the show ends in sometime in 2017 (I've got a buddy who works for CBS and he told me it's gonna happen in a story in which Ted has to lead the robot army against Neo-Lily in a battle for control of the Nexus. Yeah, apparently a lot happens on that show in the next few years). No, the amazing thing involved a certain red-headed talk show host hiding in the background of a show.
Just For Fun: Did Anyone Catch This Bizarre Blooper On How I Met Your Mother This Week?
That's right. Conan O'Brien, AKA the person least likely to be able to blend in in a group of extras, was seen for a couple of seconds on the CBS sitcom. And, while the show made no real attempt to hide his wordless cameo (seriously, if they had put him next to Jason Segel, they would have both looked normal human sized and we might not have noticed), the moment was pretty brief. Fortunately, Neil Patrick Harris let people know to look out for it on his Twitter before the episode aired:

That prompted some viewers to set their eyes for "eagle" as the folks over at Huff Post Comedy did. More importantly, they also remembered something that had completely slipped our mind. Harris and O'Brien had discussed last night's appearance on Conan all the way back in June. When Harris was interviewed on O'Brien's show, they talked about how the TBS host had won a charity auction to have a walk-on role on How I Met Your Mother and how O'Brien thought it would be funny if he had no lines. I guess he got his way.
Watch both clips, first the TBS interview and then last night's moment from CBS, below:
Have a tip we should know? tips@mediaite.com