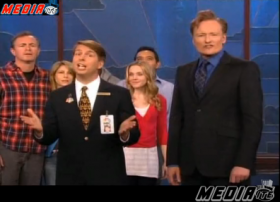 It's official: Conan's bitter.
Tonight, again, his monologue was laced with jokes sticking it to NBC — plus the first salvos that seemed intentionally aimed at Jay Leno. Until tonight, Conan's mentions of Leno himself were benign, instead focusing on NBC's plans with respect to both their shows — which Leno has echoed emphatically on his own show. Tonight, that ended.
Said Conan: "Hosting the Tonight Show has been the fulfilment of a lifelong dream for me. And I just want to say to the kids out there watching: 'You can do anything you want.' Yeah. Unless Jay Leno wants to do it, too."
Then he imitated Leno, not entirely kindly. It was the first time that Conan had seemed direclty bitter toward Leno, or implicated Leno for having any real agency in the matter. Previously, both comedians had characterized the the NBC mess as having been a "solution" devised exclusively by NBC.
Conan also joked about NBC's upcoming coverage of the Winter Olympics, suggestion they'd make changes like "move the Winter Olympics to summer but still call them the Winter Olympics" "reserve the right to cancel ski-jumps mid jump" and this doozy: "Replace the flags on the giant slalom course with breached NBC contracts." Ouch.
Perhaps in a bit of pushback to Leno's frequent comments about how he was #1 when he left the Tonight Show, Conan also offered this one: "Move the bronze up to gold's place, silver stays where it is and add a new medal for fourth place called the NBC." Ouch again.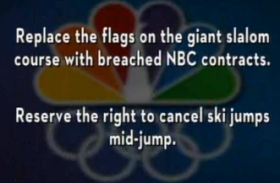 Then yet another NBC star came by to show solidarity with Team Conan: Jack McBrayer, aka 30 Rock's Kenneth the Page, leading a tour group through the studio: "This is the former home of the "Tonight Show with Conan O'Brien…"
It's no secret of course that Conan isn't happy — yesterday's letter and last night's show made that pretty clear — but this is the first time he's really unloaded on Leno, who a "Tonight Show" insider told me has been blamed "in equal measures" with NBC for this whole mess. Even so, Conan only has so many shows left where he can do this. Either he's staying, or going. This is showbiz. There's gotta be an arc.
I'm with my colleague, Steve Krakauer, who wrote this tonight: " I'd say one more night of this, then maybe a goodbye show Fri if it's really his last." I hope it's not his last, but watching the video below, I can't see how it could be anything but:
Have a tip we should know? tips@mediaite.com