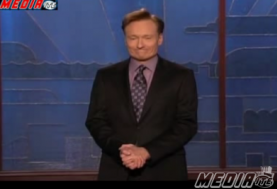 "Hello there, I'm Conan O'Brien and I need all of you to write me a letter of recommendation."
For those who were worried that erstwhile Tonight Show Conan O'Brien's late-night hating on NBC was over, those fears were laid to rest by this reassurance at the top:
"A lot of papers are now reporting that I am now legally prohibited from saying anything negative about NBC. So goodnight ladies and gentlemen, it's been a great show!"
Haaa. Snap! That said, Conan went pretty easy on the network. Displaying the legal acumen that has no doubt carried him through the process thus far, he noted that while "It's been widely reported that I can't say anything negative about the network. Luckily, folks, they're not saying I can't sing anything negative." And he did, to the Star Wars theme:
Morons, incompetent morons
These people are morons
La di di di
Conan also raised a comment made by Julia Roberts on the Golden Globes red carpet, noting that NBC was "really in the toilet." Said Conan: "NBC was upset — and toilets were furious." But — apart from comparing NBC to a lonely donkey in a field, after that Conan pretty much left NBC alone.
He did, of course, continue to use his predicament as the main source of material for the monolgue ("It's a bit hard to accept that in a couple of days I won't have a show, but Sn00ki and The Situation will"). He had a lot of material, showing footage from today's "I'm With Coco" rallies across the country (the lonely donkey was in an empty field at NBC's competing rally down the street). Then he upped the Craigslist ante from the other night, listing himself on the "Casual Encounters" section of the site ("Tall, slender redhead available for nighttime recreation….Not afraid to take two people at once, and then a musical guest." Awesome.)
Best part: He stopped the show for a moment to acknowledge that there were bigger things going on in the world — not just Osama bin Laden's tramp stamp, but the turmoil in Haiti. Conan's ratings have been skyrocketing since "The Troubles" began, and as today's rallies demonstrated, his flock is particularly devoted. He mentioned Haiti and donating last week (to www.StillerStrong.org), but his platform and prominence and attention right now cried out for some leadership. So, well done on that (though if that Craigslist ad had a click-through link to the Red Cross, that would be even better).
By now you really should be watching all this — it's high drama, after all — but in case you missed it while you were drifting off to sleep, here is the clip:
TALL, SLENDER REDHEAD AVAILABLE FOR NIGHTTIME RECREATION – m4ww – 30 (Universal Studios)
Date: 2010-01-18, 11:26AM PST
Reply To This Post

– Tall, slender redhead available for nighttime recreation.

– 6'4", completely ripped, VERY Caucasian.

– Drapes match the carpet.

– Currently homeless, must meet at your place.

– Can go a whole hour (with scheduled breaks every 7-10 minutes).

– Fatties welcome.

– Not afraid to take two people at once, and then a musical guest.

– NOTE: If you want me to perform after midnight, it'll cost you!
Have a tip we should know? tips@mediaite.com