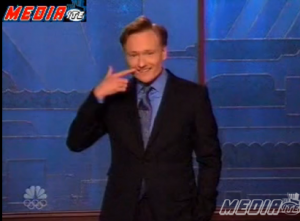 "My name is Conan O'Brien, and I am just three days away from the biggest drinking binge in history."
Conan O'Brien has taken to opening his monologues with self-deprecating references making light of his situation — that is to say, the situation of being kicked out of the Tonight Show after just seven months in specific violation of his contract that he signed five years ago thinking Jay Leno was retiring but instead NBC gave Leno a 10 p.m. show that tanked which screwed up Conan's lead-in and caused an affiliate revolt which meant The Jay Leno Show had to be canceled which led to NBC's brilliant plan to give him a show at 11:35 that would bump The Tonight Show back a half hour which essentially meant giving him back the Tonight Show which Conan refused to do so he's out and now Jay Leno is taking back the Tonight Show which was the one thing that Conan's contract was meant to protect against. Yes, that situation.
It's a good attitude — and it's making for great comedy. Gone is the bitter edge from last week — understandably bitter but it had a shelf-life, especially against the backdrop of the catastrophe in Haiti. Besides, he more than got his low-blow digs in at NBC.
But — there is a weird silver lining to this, that Conan alluded to last night and Monday: He's never been so beloved. The support O'Brien has enjoyed has been off-the-charts ridiculous — there were nationwide rallies, for God's sake. Where the PR wars are concerned Conan has won hands down, despite Jeff Zucker's attempt to justify his actions on Charlie Rose and Jay Leno's spin on it on his own show, which WaPo's Tom Shales called "disingenuous to an intolerable extreme" and David Letterman just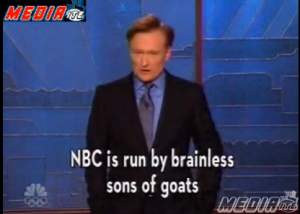 gets-personal-hits-jay-leno-where-it-hurts/">eviscerated last night. Conan now has attack dogs taking the nastier shots for him — an army of Dick Ebersols, if you will — so it's left him to continue his assault on NBC from a more defensive position (see: joke about visiting the NBC theme park to ride the "The Tunnel of Litigation") rather than going for the jugular.
Which has left him — and his staff — free to sort of…enjoy this. And why not? They're out; they know they're out. But as Shales points out, it's bigger than that. They're in this line of work for a reason, and getting to The Tonight Show is the apex, one worth uprooting lives and families for to move from New York to L.A. They may not be able to create a long legacy, but they are certainly creating a lasting one. They're creating television history right now, every day. That's a pretty decent silver lining.
It's also extremely freeing. Conan and his team no longer care, no longer need to care, about pushing back against rumors, standing up to the big guy, or fighting for survival. Now they can just do what Conan has always done best, and what might even have worked at the Tonight Show, given enough time: be goofy. Insulting NBC in Spanish, calling the network execs "brainless sons of goats who eat money and crap trouble" – in Spanish? That's hilarious. Saying that "NBC's headed downhill faster than a fat guy chasing a runaway cheese wheel?" That's also hilarious. Miming an evil executive with a cat and a wheelchair? Hilarious! Ridiculous! And sublime.
At Monday's rally in L.A., Andy Richter spoke to the crowd gathered in the rain and thanked them for making a weird, sad situation that much better. "It's been kind of a tough time, but also – a really fun time!" All things considered, it's not a bad way to go out.
Have a tip we should know? tips@mediaite.com