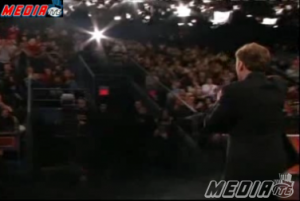 "Walking away from the Tonight Show is the hardest thing I've ever had to do," said Conan at the close of his run of the Tonight Show, for seven months of zaniness and fun. It was not a moment of punchlines — it was his last to address his staff, his fans, and the company where he spent his career: NBC.
"Tonight, I'm allowed to say anything I want," said Conan, in earnest. "And what I want to say is this: Between my time at Saturday Night Live, the late night show and my brief run here at the Tonight Show, I've worked with NBC for over 20 years. Yes, we have our differences right now, yes we're going our separate ways. But this company has been my home for most of my adult life. I am enormously proud of the work we've done together and I want to thank NBC for making it all possible." Tepid applause. But still.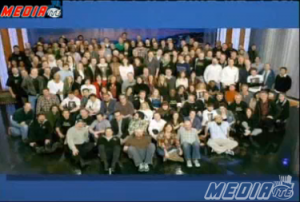 He went on to thank "the best staff in the history of the medium" and talk about how lucky he was to have hosted the Tonight Show, with that group of people. "I did it my way, with people I love – I do not regret one second," he said. Then he thanked the show's fans, whose above and beyond support over the past few weeks "made a sad situation joyous and inspirational." That was the part where he got choked up, and said he would remember that gift for the rest of his life.
All he asked, he said — especially of the show's younger fans, was this: "Please do not be cynical."
"I hate cynicism, for the record it's my least favorite quality, it doesn't lead anywhere. Nobody in life gets exactly what they thought they were going to get. But if you work really hard and you're kind, amazing things will happen."
This, surely, was one of them. And now it's Leno who's got something to measure up to. Watch it below.
Have a tip we should know? tips@mediaite.com