Concha: ABC World News Finally Covers Gruber as NBC Newscast Continues to Ignore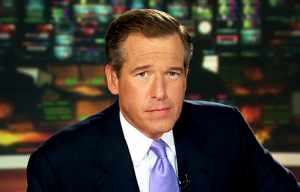 And on the 11th day, ABC took the plunge while NBC dithered.
We're talking, of course, about the Jonathan Gruber story and each network's coverage (or lack thereof) of it. On Tuesday night, World News Tonight with David Muir explored the controversy for the first time while The Nightly News with Brian Williams found other stuff to fill its 22 minutes of airtime. Overall, Muir explored the subject for 1 minute and 16 seconds, which included a live exchange with its exceptional White House Correspondent Jonathan Karl. If ABC were wise, they would allot this time to Muir and Karl daily to analyze/discuss one big political story of the day.
Meanwhile, Jon Stewart made every conservative's week by tearing Gruber apart in this Daily Show segment. Know this: Media on the right are always none to pleased when Stewart or Bill Maher rip the Republican Party, as each does a strong majority of the time on their respective programs. But on those occasions when Stewart or Maher criticize the left and/or Democrats (and it happens a bit more often than each is given credit for), you won't see a group run faster to embrace their perspective than those sympathetic to the GOP. For proof, try counting how many times you hear today, "When you've lost Jon Stewart…" when the Gruber discussion comes up today on cable news or talk radio. You'll run out of fingers quickly…
So with Fox, CNN, MSNBC, CBS and ABC all covering the story in varying degrees, that leaves NBC as the lone wolf on the Gruber front. The face of the network–at least as far as appearing on other networks–has been Chuck Todd, who appeared on Newsmax yesterday with Steve Malzberg. Among other questions, Mr. Todd was asked why the NBC Nightly News hadn't touched the story to this point.
"It's a political story," Todd said. "Network news in general hasn't been covering the political back and forth of Washington a lot lately. I don't think this has to do with Gruber, specifically. I would just caution people on that."
To be fair, Todd did explore the subject on his own show–Meet the Press–albeit nine days after the story broke (it was impossible for a political program to avoid at that point). And he's correct in his assessment that the nightly newscasts have veered away from political stories. But to completely abandon the notion–especially in this case–flies in the face of what even NBC's most reluctant competitors are doing. Besides, this is the kind of story any executive producer, anchor or reporter should be eating up. Why?
– You've got a president caught making misleading statements on camera, calling Gruber "some adviser who never worked on our staff" when in fact he was paid $400,000 by HHS and visited the Oval Office for the specific reason of crafting strategy around the ACA on 19 different occasions. Mr. Obama's own advisors even say he was a major player.
– You have an MIT Professor–who earned millions dollars in consulting fees from the federal government and (according to the Washington Post fact-checker Glenn Kessler) eight states from California to Maine in helping to launch their individual healthcare exchanges–caught on video on multiple occasions bragging about the benefits of a lack of transparency while calling the American public stupid.
– You have the House Minority Leader claiming not to know who the guy even is…except for all of those sound bites of her praising his work.
Parallel Universe Time: Replace President Obama with President Bush (either one will do). Now replace self-described Democrat Jonathan Gruber with a self-described Republican consultant and have him get paid millions to craft a strategy on the most sweeping legislation of the past half-century, all based on a lie that he freely admits to on camera. Finally, throw in John Boehner insisting at a press conference not knowing of his existence…all before every progressive publication and program on the planet proves him wrong with ample audio to the contrary. Wall-to-Wall-to-Wall would be the result. Yes, Brian Williams would somehow find time to do the story (it would be the lead). And Rachel Maddow would become Jack Nicholson's Joker…the permanent smirk would last for the same amount of weeks it did during Bridgegate.
For those who say this doesn't matter, think again. Gruber's comments could allow the Supreme Court to gut the ACA when it hears oral arguments around King vs. Burwell, which (in short) centers on arguments that the Obama administration is illegally subsidizing insurance in states that didn't set up their own exchanges. If a decision goes against the administration, the law crumbles. And the Gruber tapes will undoubtedly play a role in the case. So yeah, it matters plenty.
It took 11 days, but ABC finally jumped into the Gruber pool. That leaves NBC as the sole network still dithering on the plank.
NBC News President Deborah Turness recently took the reigns of the second-place and now executive producer-less Today Show. She might want to extend her workday to her nightly newscast as well…which–now 12 days in–appears to have a very dubious distinction on its hands.
— —
>>Follow Joe Concha on Twitter @JoeConchaTV
Have a tip we should know? tips@mediaite.com