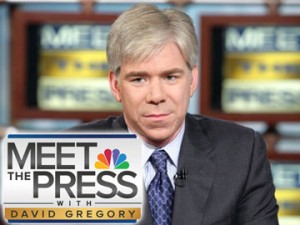 Back in April, it was declared in this space that David Gregory was at the beginning of the end of his six-year tenure as host of the longest running show on television, NBC's Meet the Press. The conclusion was a simple one to arrive at. After all, by network brass stating to the Washington Post that its host (and members of his family) were undergoing psychiatric consulting–all in an effort to help him connect with audiences more effectively–Gregory's departure from the Peacock was only a matter of when, not if.
Chuck Todd will take over starting September 7th. Good for him…he's paid his dues primarily on MSNBC, knows the political landscape as well as most, and has shown the ability to host a decent program in The Daily Rundown. Note: For DC wonks, TDR is considered by many as better than decent. Problem is, Meet the Press needs to appeal to more than political junkies inside the Beltway if it hopes to rise from the ashes of third place in the Sunday morning talk show race. And given Todd's average interviewing ability and ordinary screen presence, it's almost guaranteed the show stays about where it is from a numbers perspective in the Todd era.
As for Gregory, he's confirmed he'll be leaving NBC altogether. It pales in comparison to Piers Morgan, who (for whatever reason) stated he would continue to appear on CNN in a "different role" even after being relieved of his duties at 9:00 PM. Predictably, he hasn't been heard or seen since (outside of the fruitless exercise of battling people/Larry King on Twitter on a daily basis). But Gregory isn't being ambiguous in terms of his future, stating (on Twitter) that he is leaving NBC as he came: "humbled and grateful." Classy considering the community-access, utterly-amateur way he was treated by NBC brass.
As I wrote a few months ago, think about it: Since he was 23, David Gregory has been a proud member of the Peacock family. He rose through the ranks quickly, filling in as a co-anchor of Weekend Today; even subbing for Matt Lauer on Today–considered the top of the food chain at 30 Rock–by age 33. He also filled in as anchor of NBC Nightly News and Weekend Nightly News starting in 2005. Three years later, he got his own show on MSNBC, the now-late Race for the White House before moving on to a nearly-impossible task of following the revered Tim Russert on Meet the Press
So after over two decades and doing just about everything that could be asked of him while showing impressive range in doing so many different programs at such a relatively young age on the national stage… and after being left twisting in the wind by the network with the ridiculous decision to allow that story around a shrink being brought in to determine why he–a television personality who had done five major shows for the network–suddenly can't connect with any audience… and after NBC can't show the common courtesy and respect of allowing him to do one final show to say goodbye to viewers and the show's staff, Gregory gets thrown away like a losing lottery ticket. Or as some others would describe it, like Ann Curry. Or Jay Leno. Or Conan O'Brien. Or…
This isn't to say keeping the 43-year-old on was the right move. Ratings have sunk to the lowest levels in the history of the show (over 5000 episodes since 1947). The show and its host aren't critically acclaimed and is routinely attacked from both sides of political media aisle. In short, Mr. Gregory had his flaws, but the most glaring one… given the show and its history, was a lack of gravitas. The program felt important under Russert. Under Gregory, it had no feeling at all.
It was time for him to go.
But given the appalling way the veteran was treated in his final year.. .all the leaks, all the unkept promises, all the backstabbing, David Gregory deserved much better.
Just another day in the cutthroat world of the TV news business…
>>Follow Joe Concha on Twitter @JoeConchaTV
— —
[Image via screen grab]
This is an opinion piece. The views expressed in this article are those of just the author.