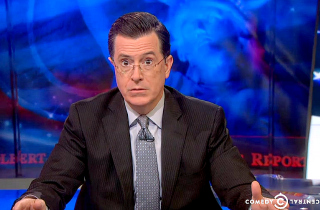 Stephen Colbert got the kind of New York sendoff that rivals only Derek Jeter Day this year in terms of old friends coming back to say goodbye before retiring.
All told, several dozen celebrities — from Jeff Daniels to James Franco to Keith Olbermann to Katie Couric — bid farewell to The Colbert Report and to the character who won't be joining the host when he heads off to CBS for Late Night.
A few months ago, when the announcement was made that the 50-year-old husband and father of three would be taking over for David Letterman, the first thought that came to mind regarding his chances against Jimmy Fallon (NBC) and Jimmy Kimmel (ABC) was actually the number three, as in third place. The reasoning is fairly straightforward: The "Stephen Colbert" CBS is buying is the Ronan Farrow of late night. Sure, the character of Colbert has hosted a show for nine years on Comedy Central, but the actual Colbert has exactly zero shows under his belt as he takes on a whole new level of competition.
Now, that's not to say Colbert doesn't have talent. Of course he does — it just has been given very few at-bats thus far. And on-the-job-training in a business where first impressions are everything is a big risk for the Tiffany Network to take here, particularly when considering the competition. Remember, Jimmy Fallon did 12:30 on NBC for years (See: grooming) before finally taking over for Jay Leno on The Tonight Show an hour earlier. Jimmy Kimmel has been hosting for over a decade on ABC as well, and did The Man Show prior (See: At-bats).
Stephen Colbert — the person — has only made a few guest appearances here and there, and while he comes off as a nice guy with a good sense of humor, you get the feeling he doesn't have that "it" factor without his famous character. It's almost like seeing Henry Winkler post-Happy Days as any other character than the Fonz. No leather, no correctamudno, no cache. Colbert: No Republicans or Fox News to mock while in character, perhaps no cache.
And that's another challenge for Colbert right there: How many conservatives won't even give him a chance at 11:30 on CBS, thinking they're only going to see the kind of partisan figure that a curmudgeon David Letterman became in the final years in his career? By becoming polarizing (Letterman rarely jokes about the current president), Dave's reputation as a Late Night Olbermann began to hurt his numbers. And as he limps to the finish line, Letterman is a consistent bronze medalist in the late night wars. Colbert gets to inherit that smaller audience, except he has the same kind of reputation as well. Tough to grow that way, especially when considering that Fallon and Kimmel are decidedly apolitical publicly, a wise career choice by both.
So why didn't CBS go after an Ellen, a Howard Stern (my choice simply because he is the best interviewer in the business by a country mile) or even a Jon Stewart? Simple answer: Money. According to Forbes, DeGeneres made $56 million last year in syndication; Stern took home $90 million with Sirius and NBC; Stewart raked in $30 million as host of The Daily Show; Letterman made about $20 million this year, according to TV Guide.
What will Colbert earn each year over a three-year deal? $4.6 million.
In contrast, Fallon is paid $12 million/year by the Peacock and Kimmel $10 million annually from Disney. Colbert may not have been the first choice (no matter what Les Moonves says), but he certainly was the most cost-effective of the big candidates out there. And despite being the oldest of the three network late-night hosts, he does potentially bring a younger audience–(Note: the demo is everything)–with him from Comedy Central.
Still…with no experience as a host and without character in hand, and all while owning a reputation as a ideologue preceding him, you have to wonder if CBS thought this through very closely.
Stephen Colbert the character said goodbye last night. Now the actual Colbert can say hello to third place once the hype and curiosity following his debut fades.
— —
>>Follow Joe Concha on Twitter @JoeConchaTV
Have a tip we should know? tips@mediaite.com