Concha: Ebola in World's Media Capital Means Non-Stop Coverage Gets Personal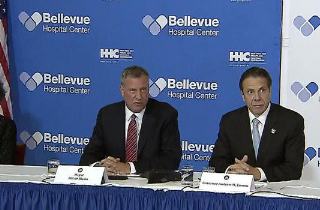 We've all heard about East Coast bias in the sports world before. Same goes for big stories that become larger than life as they pertain to cable news and particularly New York, the media capital of the world.
Ebola coverage to this point has been exactly as Fox's Shepard Smith declared it was during its then-peak two weeks ago: Over the top, hysterical, overblown for ratings. But if you thought what you witnessed after two Dallas nurses contracted the virus from the late Thomas Eric Duncan was out of hand, just wait if the other shoe drops if some unfortunate soul emerges from the latest case involving Dr. Craig Spencer out of New York City.
You know the story by now: He used Uber! He went bowling! I'm even seeing a new term emerge on social media: Ebowling. The New York Times even (rightly) decided to educate its readers on whether one can get Ebola from a bowling ball or not (rightly because given all the confusion and misinformation, giving another Ebola 101 class can't hurt). We're even being told not to eat poop or mucus found in the street (looks like Arby's for me today instead). Blame is everywhere–to the president to the CDC to Spencer himself–as to how he got into the country after flying back from a mission with Doctors Without Borders in Guinea. It's a sequel to Dallas, except–as we've heard in many movie trailers in the past–because the virus literally drove right past all of those midtown Manhattan TV studios–this time, it's personal.
It's also reminiscent of coverage we see of the World Series this year. An ESPN headline before the Fall Classic declared: "Get Ready for the Worst World Series Ever". Why? Likely because the beloved Red Sox or Yankees didn't even make the playoffs (and because ESPN isn't carrying the series). It also looks and sounds like the panic the rest of the country is introduced to when any snowstorm over six inches is headed to the Big Apple. What? A decent snow accumulation expected in New York? All hands on deck! Better get the extra-obnoxious breaking news banner out!
But six inches in Philadelphia? Kansas City? An ice storm in Dallas? Oklahoma City? Yawn. Please. Doesn't affect us.
So before running to the store to get that hazmat gear, keep in mind the following fairly ridiculous stats for context:
Number of deaths in the U.S. as a result of Ebola: 1
Number of victories by the Jacksonville Jaguars in 2014: 1
Number of TDs by fantasy football overall #1 pick (most leagues) LeSean McCoy in '14: 1
Number of pass attempts by Johnny Manziel so far this season: 1
Number of people expected to die from the flu this season: 36,000
Number of people who have contracted Ebola in the U.S.: 2
Number of losses on the road by the SF Giants in the MLB playoffs: 2
Number of people killed by shark attack in the U.S. throughout 2013: 2
Total number of games NFL players have been suspended so far this season: 202
Number of people in below image discussing Ebola: 6 (keen observation courtesy of Erik Malinowski of FoxSports.com)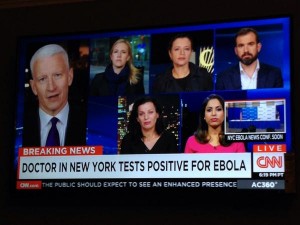 East Coast bias. It exists on all levels of media regardless of niche or vertical.
And now that Ebola has come to New York, rest assured this will be only story (again) you'll be hearing nonstop about for the foreseeable future.
— —
>> Follow Joe Concha on Twitter @JoeConchaTV
Have a tip we should know? tips@mediaite.com