Concha: Here's Why the Big Three Nets Punted Obama Speech in Favor of Sweeps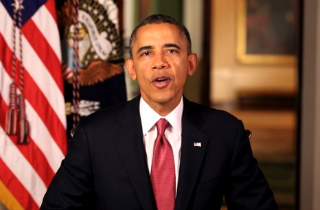 How times have changed when it comes to the presidency and the Big Three networks…
Just eight years ago, an unpopular President George W. Bush gave a 17-minute speech on deploying 6000 national guard troops to the border. CBS, NBC and ABC all carried that speech, as is usually the case when the president has a major announcement to make and requests time on the "free" networks to reach a maximum audience.
Fast forward to November 20, 2014: President Barack Obama will make what is expected to be a 10-minute speech on his unilateral (and possibly illegal upon listening to respected legal scholar Jonathan Turley or reading today's Washington Post) plan to shield up to five million undocumented immigrants from deportation. But when administration officials sent out feelers from the Big Three to confirm they'll drop everything and cover the speech, the feedback–according to Dylan Byers of Politico–was reportedly decidedly negative. As a result, the White House didn't even bother making a formal request to avoid the embarrassment of being officially snuffed.
Why did the networks punt? To quote Michael Corleone: "It's nothing personal, Sonny. It's just business."
"Business" as in the president simply doesn't rate like he used to. Call it Obama Fatigue. Call it a public who doesn't trust him or government in general anymore. Call it plenty of cable and Internet options to choose from. But in the end, call it a very special fall finale of Grey's Anatomy on ABC.
If you haven't noticed, the major networks have been largely splitting up their seasons to create two finales around respective fall (November) and spring (May) sweeps. In tonight's case, apparently Dr. McSweamy (check that upon consulting the wife on this: McDreamy) is ironically called to the White House for some big medical initiative the president wants him to run. Or something. Will he take the job and leave that chick (Ellen Pompeo) who once starred in Old School? Tune to ABC at 8:00 PM to find out!
In the same timeslot, CBS has its ratings juggernaut, The Big Bang Theory, and that ain't going anywhere, either (the president could be announcing an incoming asteroid that will hit earth unless Bruce Willis and Ben Affleck stop it, and the Tiffany Network would still go ahead with Big Bang). As for NBC, it's all about The Biggest Loser at 8:00 PM EST, which has nothing to do with a preview of Mary Landrieu's runoff prospects next month). All of that said, Fox, CNN, MSNBC and AJAM will carry the speech live on the cable side. And in a bit of good news for the White House, Univision and Telemundo will also broadcast the speech live, with the former delaying the Latin Grammys broadcast in favor of the speech (by the way, Enrique Iglesias's Bailando wins Record of the Year in a walk…you heard it here first).
Add it all up, and the networks would all be better served running these horses than simultaneously airing a lame duck president's Hail Mary attempt for something resembling a legacy (in a CBS poll just released yesterday, just seven percent believe his signature achievement, the Affordable Care Act/GruberCare, is working well). Unlike the aforementioned McDreamy/Steamy, the lovable Big Bang cast or those Loser underdogs, the president simply isn't a popular enough to preempt these days. In the same CBS poll, Mr. Obama has sunk to 37 percent approval–the lowest of his presidency–and his disapproval rate is at 57 percent, a new high in CBS polling.
To the networks, not carrying the speech tonight is nothing personal, it's just business. The president has been reduced to the role of Fredo: A rudderless character acting in his own interest with few, if any, allies with clout in his corner (unless, of course, we're counting Teflon Al Sharpton).
Call it more options. Call it a shift in priorities on the broadcast side. But most of all, call it a president who simply doesn't resonate with the public enough to preempt a precious primetime schedule…even for ten measly minutes.
— —
>>Follow Joe Concha on Twitter @JoeConchaTV
Have a tip we should know? tips@mediaite.com