Concha: Hillary's Praise of Bigoted Dem Candidate Again Shows Lack of Common Sense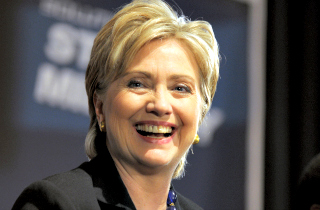 "We need to send Uncle Tom — Tillis, that is — home."
That's courtesy of Alma Adams, Democratic candidate for Congress, North Carolina. It's now Tuesday. But yet again, the national media ignores this utter crap coming from amateurs like Ms. Adams…an African-American who played this tired race card from the bottom of the deck over the weekend at a campaign rally for Senator Kay Hagan. Mr. Tillis — a 54-year-old white guy — is running neck-and-neck against the incumbent, with the Real Clear Politics average of polls showing him in a virtual dead heat with Kagan.
With possible control of the Senate hanging in the balance, Hillary Clinton–who sat largely on the sidelines up until this month in terms of actively campaigning for the party on the midterm front–traveled to Charlotte and did a speech following Adams–who has somehow represented North Carolina's 58th District in its General Assembly since 1994–moments after she made her remarks. But instead of rebuking Adams by saying something along the lines that there should be no place for this kind of dialogue in politics today–the likely future Democratic nominee said nothing except the following after handing out major kudos for Kagan:
"Let me add Alma Adams…because we need more women like her in Congress. We need her compassion and her common sense. We need her sartorial excellence. She's going to shake things up. I think the Kay-Alma combination is really going to put North Carolina ahead of the parade."
Which parade is that, exactly? Are there parades for race-baiters that exist Tar Heel country? Because if there are, Ms. Adams would be on the lead float as grand master. As for Clinton, there's a reason why her critics rightly see her as a grand idea (first female U.S. President) wrapped in a deeply flawed, overrated package. From being dead broke despite the family being worth well over $100 million to stating businesses don't actually create jobs, it's easy to see why Mrs. Clinton was so thoroughly beaten by Barack Obama in 2008…or why her favorability numbers have dropped double-digits since her book tour–a book which vastly underperformed in sales–began.
-RELATED: CNN's Don Lemon: I Get Called 'Uncle Tom' if I Don't Push a Certain Narrative
Per Fox's Charles Krauthammer on Monday's Special Report:
If you can't make the elementary liberal argument about the role of government without having this ridiculous statement that jobs are not created by corporations, then you are not going to be a good candidate, as she showed in 2008. She is a person who said in the White House we were dead broke. We had trouble paying the mortgages on our houses. If you are going to plead poverty, you don't refer to your homes in the plural. That's pretty elementary. She is not getting the elementary stuff.
Hillary Clinton has been a candidate twice now. She scored a layup against a hapless Rick Lazio in the very blue state of New York in winning a Senate seat. But when 2008 came around and she actually had to show what kind of instincts needed to perform effectively on the campaign trail against an actual formidable opponent, she failed spectacularly.
And to quote Yogi Berra, it's déjà vu all over again by praising bigots like Alma Adams for having "compassion and common sense."
If the last few months are a preview of her upcoming campaign, the only place where Hillary Clinton is dead broke in is the common sense department.
Listen to Adams' remark below:
[Featured image via Shutterstock.com]
— —
>> Follow Joe Concha on Twitter @JoeConchaTV
Have a tip we should know? tips@mediaite.com