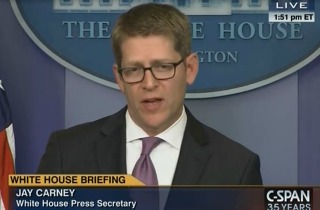 Outside of sunburn, hangovers and Joey Chestnut winning another hot dog eating contest on Coney Island, one other predictable item came out of the long summer holiday weekend:
A-Jay-Carney-to-MSNBC rumor, this time courtesy of the Daily Caller.
Given MSNBC's recent track history in hiring former Obama Administration members (David Axelrod, Robert Gibbs), having a conversation with Carney isn't what one would call shocking. But if network President Phil Griffin did decide to make an offer the former Time Washington Bureau Chief can't refuse, it would mean having two ex-Obama-press secretaries on staff.
First, some free advice for Mr. Griffin: You can't kinda get a girl pregnant, and you can't kinda use Carney the way you've kinda used Gibbs to this point. For those who watch MSNBC and enjoy Gibbs's perspective and presentation, it must be vexing to see that he's only used relatively sparingly. And when he is interviewed, the results aren't making headlines. For proof, simply throw "Robert Gibbs + MSNBC" into a Google News search. As you'll see, there is no there there, and the at-bats are too few. The latter is odd considering those with much less gravitas and inside information who get much more air time on the network.
So if Carney does come to MSNBC, Griffin would be wise to give him his own show. No worries on the experience end, as the 49-year-old was a special correspondent for CNN (and at last check, Ronan Farrow—who currently occupies the 1:00 PM slot with the lowest-rated show on the network—hadn't even hosted a community access show before getting 60 minutes of national air on MSNBC). Carney also hosted the Spin Zone that is the daily White House Press Briefing for over three years, the longest such stretch in that grueling position since Mike McCurry sixteen years ago under President Clinton. Love 'em or hate 'em—and few would argue Carney was the most polarizing, emotion-inducing press secretary in the history of the job—Carney does know who to take a punch and counter effectively, oftentimes making responses condescending and even personal. In other words, he's perfect for cable news in 2014.
But is MSNBC the right choice? As mentioned, it already has a former press secretary on staff. Those openly supporting the current administration aren't in short supply. Adding Carney to the echo chamber won't provide any bang for the buck (and Carney won't come cheap). Unless he gets his own program—and there are plenty of folks currently expendable throughout the lineup if the numbers are any indication (the aforementioned Farrow, Alex Wagner, Ed Schultz, Al Sharpton, Chris Hayes are all struggling mightily, with Wagner's invariable below-60 demo rating being the most glaring at 4:00 PM)—Carney will be essentially wasted the same way Gibbs has been to this point.
And it's not just about giving Carney a show that looks and feels like almost every other program on the network, but providing him the proper foil. Nicolle Wallace—a former Bush 43 Communications Director and frequent pundit on Morning Joe—would be a nice fit as a Carney co-host, for example. Whomever is chosen for this hypothetical show, almost all would agree that Carney was at his best (from an entertainment standpoint) when battling Fox's Ed Henry or ABC's Jonathan Karl during the daily briefings, and not when in a setting that's completely comfortable to him.
If the rumors prove false and MSNBC isn't in the picture, the obvious choice—as noted in this space in the past—is CNN…the only major cable network without a former press secretary on its roster. Remember, Carney was a member of the Time Warner family for a long time (via Time Magazine) and Crossfire can surely use a spark given its own struggles. Adding Carney (along with CNN Contributor Will Cain and offering more Sally Kohn) could help turn that program in the right direction. Fox's The Five—a top-three cable news program–goes 7-to-8-pundits-deep in its rotating cast. There's no reason Crossfire couldn't do the same.
Speaking of the Five, that's where former Bush 43 press secretary Dana Perino sits on an almost-daily basis. Unlike Gibbs on MSNBC, a viewer knows where and when to find her on a consistent basis, and her air time goes well beyond a generic 4-6 minute one-on-one or panel interview segment.
So where will Jay Carney end up?
MSNBC is the obvious choice.
But CNN makes the most sense.
Either way, whichever network hires Carney, making him a contributor who periodically pops up when the mood strikes isn't the answer.
[image via Screengrab]
— —
Follow Joe Concha on Twitter (@JoeConchaTV)
Have a tip we should know? tips@mediaite.com