Concha: By Giving Janay Rice Content Approval, ESPN's Hill More Stenographer than Journalist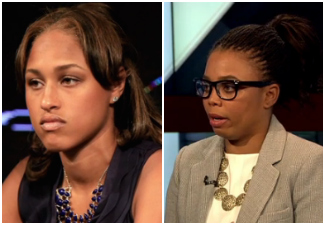 So ESPN's Jemele Hill landed a big interview somewhat recently by convincing Janay Rice–wife of Ray Rice and a victim of domestic abuse via an elevator video the world has seen over and over (and over)–to sit down with her first.
At first glance, any journalist would applaud Ms. Hill for her hard work and hustle in landing one of the more coveted Q&As out there. At least until reading this disclaimer on ESPN.com:
"No questions were off-limits. Janay Rice was given approval over its content and release date."
Well, that clears that up. Here's what Mrs. Rice is saying: Ask whatever you want–no questions off limits, after all–but my PR team and I will decide afterward if I liked my answer or not. In other words, she gets to play both subject and editor. The title of the ESPN.com headline is "Janay Rice, in her own words." Given how the Worldwide Leader in Sports now defines what "own words" really means, a more appropriate title could be, "Janay Rice, in her own words…except-for-stuff-she-may-or-may-not-have-decided-after-giving-it-some-thought-that-she-didn't-want-included-in-an-interview-she-also-had-full-control-of-when-it-would-appear-on-the-ESPN-family-of-networks-and-ESPN.com."
This is no longer a tell-all discussion, it's simple dictation…with Hill morphing from journalist to stenographer. And by the way, what does Mrs. Rice think about her husband's reinstatement to the NFL? Thrilled? Relieved? If you listened to the Hill interview, you would have no idea, as it was recorded over three weeks ago (November 5). Remember, only Janay Rice could decide when the interview could be released to the public, making parts of the interview already feel incomplete, never mind compromised.
Jemele Hill gets the big first get of her career. She'll get plenty of clicks, retweets and exposure as a result. Kudos to her.
Because a good stenographer is so hard to find these days.
— —
>>Follow Joe Concha (@JoeConchaTV) on Twitter
Have a tip we should know? tips@mediaite.com