Concha: Integrity Questions, Lack of ROI Make NBC's Decision to Employ Sharpton Stupefying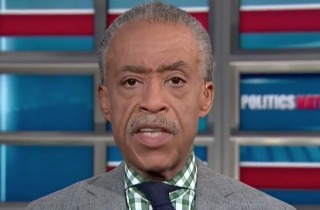 For a good stretch of last decade, Randy Moss and Terrell Owens were considered the best receivers in the National Football League. Moss had height and speed, Owens had strength and no fear (even playing a Super Bowl on a not-even-close-to-healed broken leg back in '05).
Both Moss and T.O. were also toxic head cases who caused headaches for coaches and management alike. All told, they played for a combined 11 teams over their turbulent NFL careers. For context, Derek Jeter retires this year having played for the same team for 18 seasons in the Bronx. Tom Brady enters his 14th with the Patriots.
And no, you haven't stumbled onto some bizarro SportsMediaite.com. Here's the point as it relates to the Al Sharpton MSNBC controversy lately: despite their reputations as poor teammates, Moss and Owens kept getting signed by team after team for enormous amounts of money because of the short-term ROI, or return on investment. As Jason Whitlock once perfectly opined: "Moss is the unstable, super-hot girl you never marry. You tell her what she needs to hear, you might even give her the code to your garage door but you never commit. You enjoy the ride while it lasts and you move on without any hard feelings."
With Al Sharpton, you also have a huge headache, albeit inside the NBC News locker room. The old rule used to be not having those covering a story injecting themselves into them. With Sharpton, that rule–like so many others at NBC/MSNBC–has been thrown away like a losing lottery ticket. It makes you wonder with Keith Olbermann is thinking when he sees Sharpton so active in the Trayvon/Zimmerman chaos last year, in Ferguson now. Because if you recall, KO was shown the door at MSNBC because he donated a modest amount of money to two Democratic congressional candidates. Apparently advocacy and anchors are a big no-no combo…until they aren't.
In the case of Sharpton, not only is he fully invested in the prosecution of Officer Darren Wilson in Ferguson (and no one still knows exactly what happened), he also–according to a recent piece in Politico–is trading emails regularly with arguably the president's biggest influence, Valerie Jarrett, and his way-too-political Attorney General, Eric Holder. Glenn Thrush's must-read also states the controversial soon-to-be-60-year-old reverend–the same one with Tawana Brawley and the Crown Heights Riots on his resumé–visits the White House "frequently".
But in the case of Moss and Owens, the Excedrin moments were well worth it. Moss and Owens dominated their positions. They changed entire defensive strategies (particularly Moss). They helped lead their teams to the playoffs much more often than not (Moss primarily with the Vikings and Pats, Owens with the Eagles and Cowboys). But as time wore on, you heard about their off-the-field antics more than anything else (especially Owens). But up until they were relatively old men, teams kept seeing the short-term benefit than the long-term BS.
For Sharpton, however, none of the aforementioned talent or benefits for Team (NBC) exists.
Every day around 5:00 PM, the ratings for last night's cable news shows becomes available to the public. In the case of Monday, August 25, when Michael Brown was laid to rest and Sharpton roused those in attendance with a fiery sermon calling for justice and activism, his post-funeral program (PoliticsNation) generated a porous 105 in the demo and 553,000 total viewers. For context, in the same time slot (6:00 PM EST), Fox's Bret Baier (Special Report) won with a 338 in the demo and 2.157 million viewers. Not just a blip…numbers all of last week during the height of Ferguson coverage–a time when one would think Sharpton's ROI would be at its apex–all placed Sharpton a distant third behind CNN's Wolf Blitzer and Baier.
As far as talent goes, while Sharpton is an accomplished public speaker, watching him attempt to read a teleprompter on a nightly basis is nothing short of witnessing a slow-moving car crash. His guests invariably are in complete agreement with him. Echo chambers between hosts and guests simply don't make for very compelling television, and the numbers prove it. And before you say this is only an MSNBC issue, Sharpton was given an unchallenged seat on the Mothership's Meet the Press just last week.
So when adding it all up, we have Sharpton struggling during a story that should be generating big numbers or even competitive ones. To add insult to injury, there's NBC/MSNBC getting killed in the press for even allowing him to have a one-hour national platform given his position at the center of one the year's biggest stories while serving as a "liaison to the White House" – in the words of Jesse Jackson.
More bad PR for a network who looks like a community access station when it comes to managing its internal conflicts. Ann Curry, Conan O'Brien, Jay Leno, David Gregory all were treated like interns who stole one too many pens. And it's not even like Sharpton can sniff second place in a three-horse race even once in a while, even with every built-in advantage he's created for himself…which makes the decision to keep him on the air by Peacock brass even more dumbfounding.
Moss and T.O. kept wearing out their welcome.
But all the touchdowns, all the excitement, all the talent they put on display…it all made the pros outweigh the cons.
In the case of Al Sharpton's TV career, it's hard to find even one pro to challenge the laundry list of cons.
Follow Joe Concha on Twitter @JoeConchaTV
— —
[Image via screen grab]
This is an opinion piece. The views expressed in this article are those of just the author.