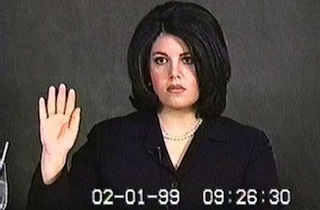 Monica Lewinsky's reemergence has proven two things:
Nostalgia for the '90s is stronger than one would think.
And there's more from that decade back in our lives than we realize.
The return of the political '90s is an obvious point: 2016 could very well end up a Clinton versus a Bush (C's currently lead the series 1-0 after taking home a three-way, round-robin tournament back in '92). Whether we like it or not, the Clintons and the Bushes are our royal families (the Kardashians were making a strong run before Kim and Khloe ran afoul with their respective NBA husbands).
Looking for the leader of the Republican Revolution? There's Newt Gingrich back on CNN's Crossfire 2.0 after a missing plane induced hiatus. Need a taste of Team (Bill) Clinton? There's George Stephanopoulos on ABC's Good Morning America and occasionally Sunday's This Week. Cravin' the Ragin' Cajun? James Carville's now on Fox News (complete with that familiar Saints helmet in the background of his satellite hits from home).
Hollywood representation? Before you can say nyet, up pops a supple Steven Seagal and his best pal Vladimir Putin, where the actor's belly appears to be Under Siege (I'll be here all week).
How about the sports world? Look no further than The Worm, more affectionately known as Ambassador to North Korea, Dennis Rodman.
Even '90s morning show sweetheart Katie Couric is rumored to be going home again to the Today Show once Savannah Guthrie goes on maternity leave. Makes sense when considering that Today once held the morning top spot for 16 years (which is astounding run when you think about it) before bowing to GMA following the show's messy divorce from Ann Curry.
Couric may be 57, and yes, she may have been playing alphabet soup (CBS, ABC) in various roles (other than, you know…as a morning show host, which would kind of make the most sense) the past ten years, but nostalgia is a hell of a thing, and a Couric return to 30 Rock wouldn't be the worst idea if the peacock network can arrange it financially.
But the impetus for this column is Monica, who pulled a Jennifer Connelly (stay with me…) and looks infinitely better at 40 than she did at 20. On cue, folks around the beltway and all over MSNBC, Fox and CNN did a bang-up job once again overanalyzing the why aspect of her return.
You want the real reason why she's back? Hint: It's not to help or hurt Hillary. In fact, it has nothing to do with politics at all.
As a guy married to a gal who still has a few single friends slightly above and below the Mendoza line that is 40, here's a theory you can take to the bank:
40 is a tough age for any single woman with no wedding in sight. The window to have children is shrinking quickly (3-4 years max?). In Monica's case, it appears she's taking stock in her life and three very big boxes aren't checked off (career, marriage, kids). To that end, she likely wants to rebrand herself in every capacity, both professionally and personally.
But some brands are too indelible and can't simply be changed from one magazine essay. And unfortunately in this case, Monica Lewinsky will be stuck being a caricature of herself for the rest of her life. Hopefully that isn't the case, but if the last 20 years of her life are indication, it may very well be, and that's a shame.
The '90s used to seem like yesterday.
But now that we're approaching 15 years in the rearview mirror, it is now distant enough, now missed enough…to feel vintage.
Monica brought us back in time for a few days this week.
But reality has returned: Kidnapped girls in Nigeria. Sterling. Benghazi. Ukraine. Like the weather here in the northeast, it's a yucky time for news these days.
And as the 90s-angst movie says: Reality Bites.
— —
>> Follow Joe Concha on Twitter @ConchaMedia
Have a tip we should know? tips@mediaite.com