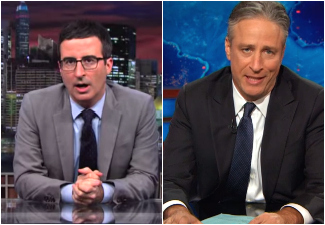 The cryptic text came in way past my new first-child-induced bedtime at 11:15 p.m. Sunday night: "Joe Concha sighting on John Oliver Show."
"Oh crap…" were the chuckled words that emerged from my mouth. What could I have said or done to deserve being skewed by the best fake newsman in the business?
That's right. THE best. And he's only 12 episodes into his full-time career as fake news anchor. But the British-born Oliver's performance on HBO's Last Week Tonight with John Oliver has been nothing short of amazing given the comparisons and challenges he was facing going into the launch.
Comparisons: Namely to Jon Stewart. As noted in this space at the time, Oliver impressively filled in for the longtime Daily Show host last summer while he was off directing a movie ("Rosewater" – the true story of about Iranian journalist thrown in jail by Iranian government after appearing on The Daily Show set to release in the fall). I stated at the time Oliver deserved his own show—even one on a cable news network given the line between news and infotainment being blurred more by the day—but it was HBO who ultimately provided him the right home (more on why it's the best fit in a bit).
Challenges: (A) In doing a new show that avoids everyone saying, "Please. It's just a knockoff of the Daily Show." (B) Somehow keeping the program from simply repeating the same bits, clips and news Stewart or Colbert did throughout the week.
Upon watching Sunday's Episode 12 show on my phone via the HBO GO app while on a train to New York (call me old fashioned, but I still get a kick out of absorbing content this way), I again was thoroughly impressed with the content, flow and tone (and a bit relieved to see my "sighting" was simply me being interviewed by Fox's Bill Hemmer in a montage of clips without any sound bites to analyze). Having now watched all 12 episodes of Season 1, one thing is now abundantly clear: Oliver's show is going to great lengths to not be The Daily Show .
One big advantage in that regard is Oliver being the National Football League to Stewart's Major League Baseball…a weekly new offering versus Stewart grinding it out of five days a week (most MLB teams play six games in a given week, but you get the point). To prepare for a weekly 30-minute show, and to do so with a former Daily Show head writer calling the shots (Tim Carvel, a ten-year veteran under Stewart and six-time Emmy winner), the quality of the product and anticipation for it can only be proportionally higher.
But instead of back loading the show with interview segments, Last Week does something The Daily Show or Colbert Report (or even "real" news broadcasts fail to do): Tackle serious topics at length by actually spending 15 minutes explaining it in lucid, easy-to-understand (and oftentimes hilarious) terms.
Topics in this regard have included America's utterly antiquated and profoundly dangerous approach to maintaining its 4800+ nuclear weapons currently sitting in Montana, North Dakota and Wyoming. Oliver and his team use bits and pieces of actual news reports—including from 60 Minutes–to underscore its points while sprinkling in enough well-deserved mockery and metaphors to keep an easily-distracted audience at home (or on a train) interested. You can see what I mean here.
Other deep-dives have included seemingly boring issues such as America's prison system, American apathy toward a recent presidential election in India (and why it's important to our interests) and Net Neutrality…a commentary so effective and educational, viewers actually broke the FCC website.
Again, you may not agree with Oliver's point of view on everything. But in terms of presentation, it's impossible to find anyone out there who can make that perspective resonate more effectively with the viewer. And while other news shows (real and fake) go after politicians and parties and media members in predictably partisan style, Oliver concentrates on the issues instead of the alleged individuals in DC to blame, and that's damn refreshing.
If—like me—Sundays at 11:00 p.m. is too late, there's obviously the app or DVR option. There's also YouTube, where (for example) Oliver's Net Neutrality tutorial has now generated nearly five million page views. His nuclear weapons breakdown aired less than 36 hours ago and will likely hit one million by the end of the day. Needless to say, HBO is getting its money worth based on the viral aspect alone. In terms of overall audience, Last Week at 11:00 p.m. is averaging over one million viewers per week, or more than 300,000 than the wretched Girls in a more favorable timeslot of 9:00 p.m.
Another nice advantage is Oliver's ability to swear. Granted, S-bombs and F-bombs don't fly as often as heard at a Chris Rock concert, but are selectively done when the outrage is warranted. Being on pay-TV also means no commercials, making the show flow seamlessly.
So while Oliver leans left, it isn't the focus and foundation of the show. If a politician is targeted, it doesn't come across remotely with the same condescension and myopia as seen with, say, a Bill Maher. As Oliver told the Washington Post recently, he has "contempt for both sides of the aisle." It's hard to believe a Stewart or Colbert feel the same way. But it's his take on the cozy rapport between journalists and politicians that should be equally applauded:
"[As a journalist], you shouldn't be wanting to go to a (political) party for any other reason than to basically ruin it. If there's not visible distrust [among reporters and people in power] then there's a massive problem at the heart of journalism."
Amen.
Jon Stewart turned 51 this past year and may be looking ahead to the next phase of a great career.
50-year-old Stephen Colbert is off to CBS to occupy third place behind the Jimmys in network late-night.
37-year-old John Oliver—just a dozen episodes in—is already the more complete package.
Not just as a comedian, but as a teacher of otherwise too-tedious-to-touch topics as well.
Refreshing, indeed.
— —
>> Follow Joe Concha on Twitter @JoeConchaTV
Have a tip we should know? tips@mediaite.com