Concha: NBC Sets Meet the Press, Chuck Todd Up to Fail by Hitting the Links Instead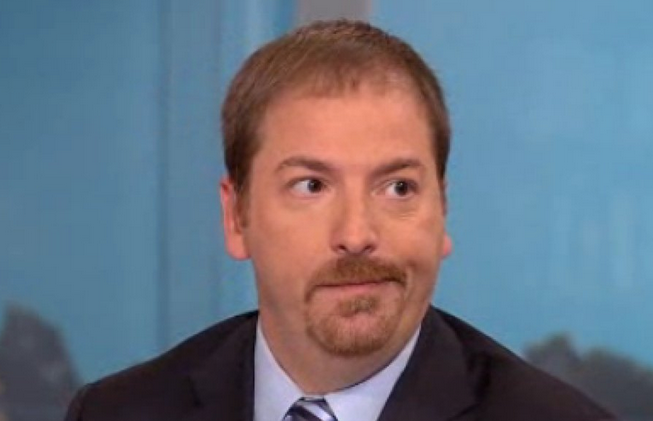 "Success requires first expending ten units of effort to produce one unit of results. Your momentum will then produce ten units of results with each unit of effort."
That comes from the very wise–and pragmatic–late bestselling author, Charles J. Givens, a former financial planner and radio host who always saw the bigger picture when it came to sound investing.
So when it comes to NBC and its investment in Chuck Todd as Meet the Press host, let's just say the ten-units-to-produce-one-unit-of-results-perspective isn't exactly one the network and the program has embraced. Momentum is everything in building an audience in today's ultra-competitive political-news-and-infotainment market. But if you tuned to NBC this morning to catch Meet and were greeted with Europe kicking the ever-living crap out of the U.S. in golf's Ryder Cup instead, you'll see that momentum is fleeting.
Just a few weeks ago Todd was the toast of the industry. He had just debuted as Meet the Press moderator and landed President Obama as his first major guest to boot. NBC properly hyped the Todd debut, as did the new host himself by embracing social and electronic media to the fullest in an effort to bring in a younger audience. And it appeared to work: Meet went from the distant third it had descended to under David Gregory to #1 again, convincingly beating ABC's This Week and CBS's Face the Nation.
But debut ratings can be deceiving. The show fell back to third the following week and stayed there again last Sunday. However, with the midterm season heating up, the ISIS threat seemingly increasing and plenty of political theatre (Eric Holder's resignation, Chelsea Clinton's newborn, the Voter Values Summit, etc.) to make any show this week especially interesting, NBC decided that Meet should simply take the week off.
Does NBC have a contractual obligation with the PGA to show the Ryder Cup this morning in lieu of MTP? Of course. But that doesn't mean there weren't other options: Meet still could have run live on MSNBC and CNBC, while streaming live on NBC's various websites as well. If something newsworthy or compelling were to come out of it, that clip or clips would live on by being discussed on the Monday cable shows and on sites like Mediaite, as well as the New York Times, the Washington Post, Politico, Drudge, HuffPost, etc.
Instead, Todd and the program loses even more momentum while its audience tunes to ABC, CBS, and Fox for its Sunday political conversation. And who knows? Some might enjoy what they see and hear on the other networks enough to not return.
NBC News President Deborah Turness made this declaration upon hiring Todd just last month:
"We will ensure that 'Meet the Press' is the beating heart of politics, the place where newsmakers come to make news, where the agenda is set."
Today, the agenda hit the links in Scotland. Turness, Todd and Meet the Press might want to start at least making an effort to succeed if setting the agenda is truly the goal.
[Image via screengrab]
— —
>> Follow Joe Concha on Twitter @JoeConchaTV
Have a tip we should know? tips@mediaite.com