Concha: O'Reilly's Help in Saving BU Newspaper Another Example of TV Hosts Giving Back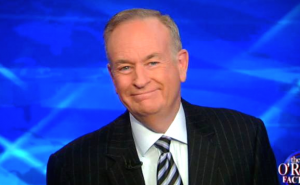 We've heard this story often lately: With online options being infinitely more convenient and cost-effective, print journalism is dying. Even empires like the New York Times are being forced to borrow money from guys like Carlos Slim (at outrageous interest rates to boot).
Print publications swimming in debt has extended to college campuses as well. And in the case of Boston University, times are tough in and around Kenmore Square to the tune of $70,000 in debt for its student newspaper, The Daily Free Press. As of a few days ago, it appeared to be a foregone conclusion The FreeP would be shut down by the end of this year. But thanks to the unlikely combination of crowdsourcing, an owner of local car dealerships and Fox's Bill O'Reilly, that debt no longer exists.
As of yesterday morning, random donations exceeded $15,000, with an additional $10,000 directly from O'Reilly and $50,000 from legendary local car dealer Ernie Boch Jr., (net worth: $1.1 billion, according to Boston Magazine). With cash to spare to future investment, the paper has been saved. Here's what Editor-in-Chief Kyle Plantz's announcement via Twitter:
WE DID IT! This goes to show how important student journalism is. From @dailyfreepress board chairman: #FreePFund pic.twitter.com/qssoCWdkGm

— Kyle Plantz (@kylejplantz) November 12, 2014
So is this a case of throwing good money after bad? No. The paper says costs have been cut by 80 percent and most resources have been shifted to an online-centric model. But according to The FreeP's Plantz, because of the shift, the "debt from former cycles remain."
Per the The FreeP's GoFundMe page:
Much like any other legitimate newspaper, we are a business, and a vast majority of our funding comes from advertisements. Our costs during the last 44 years have included paying a printer for daily print production, rent, and the many small fees associated with running a business.
O'Reilly's time while at Boston University while earning his master in Broadcast Journalism is interesting, as his classmate at the time (mid-70s) was one Howard Stern. O'Reilly has said he particularly remembered Stern–obviously an unknown at the time trying to find his voice–only because he was one of the few students there taller than he was (O'Reilly is 6'4, Stern 6'5). As for the donation, the Factor host says he got he start at the paper and it helped make him who he is today.
Ripping on cable news hosts has become almost a sport in today's cynical world on Twitter and in comment sections like the friendly one below. But for every O'Reilly–who among at least a dozen other charities has also teamed up with President Obama to raise millions to buy all-terrain wheelchairs ($15K per) for war amputees– there's a Lawrence O'Donnell of MSNBC. Earlier this year, The Last Word host announced that his program's viewers raised over $7 million for the K.I.N.D. (Kids In Need of Desks) fund, a charity he co-founded with UNICEF, which provides desks and chairs to impoverished children in Africa who otherwise are forced to sit in dirt while in class for hours at a time.
Or there's CNN's Erin Burnett, who pushed management to do her OutFront program on the border of Mali and Afghanistan to highlight the plight of children there who virtually had nothing in the war-torn country, including clothes, with only dead birds to play with. She and her team has since created OutFront OutReach page on CNN.com, to "give the crisis a platform" and so viewers can give directly to the Malian refugee crisis, and many have.
Truth is, there isn't enough space here to list all the altruistic deeds of television news anchors and hosts. They get paid very well, and most have covered or seen enough stories of hardship to know they can make a difference…
One child or person, or in the case of Boston University…one newspaper at a time.
— —
>> Follow Joe Concha on Twitter @JoeConchaTV
Have a tip we should know? tips@mediaite.com