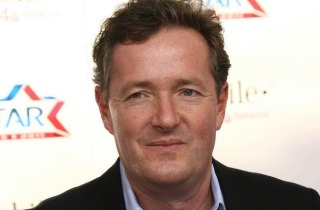 "Success in America is unlike success anywhere else… and the emptiness when it's gone."
That's from the late David Frost (played by the underrated Michael Sheen) in the great 2009 flick, Frost/Nixon. The line comes as Frost is comparing his celebrity in the U.S. as opposed to anywhere in the world, but it might as well come from another Brit who's experienced the feeling on both sides of the pond in the form of Piers Stefan O'Meara, more commonly known simply as Piers Morgan.
We've been hearing a lot from the former CNN host lately, via interviews with Politico and The Guardian. And just yesterday, he popped up on NBC's Today Show in the morning and Fox's Hannity at night.
"I would love to be back on American television. … I'm itching to get back in the game," the 49-year-old Morgan told Matt Lauer. One of those places apparently won't be back at CNN, which the former 9:00 PM host described as "quite schizophrenic" during his interview with Sean Hannity. In another sit-down with Politico last week, Piers revealed he won't be going bowling with Anderson Cooper anytime soon, partially blaming his demise at CNN on the modest lead-in audience Cooper provided as a reason the plug was pulled on his show earlier this year:
"Could I have done with a better lead-in? Yes. Anderson is a great field reporter, but does he drive big ratings at CNN, outside of a big news cycle? I don't see any evidence of it. And yet the whole bank was being bet on him at 8 and 10 o'clock."
So with CNN (and by extension, HLN) out, but that itch still needing to be scratched, what's left on the playing field? Fox simply ain't happening. MSNBC, however, is struggling through its worst stretch in nearly a decade and certainly has plenty of hosts who are expendable right now as a result (his anti-gun stance would obviously play well for starters). And before you say, "Why would another network pick up a failed host of a competitor?" — I have two words for you: Donny. Deutsch. But MSNBC only happens if Morgan is willing to take a major cut from his last contract, a reported $8 million over three years. Not an impossible scenario given his strong ties with NBC going back to the AGT and Apprentice days…
But perhaps cable news isn't the right place for Morgan at all (unless his itch is a political one). That said, he was a judge on NBC's America's Got Talent for years before eventually being replaced by Howard Stern. He also won the 2007 version of Donald Trump's Celebrity Apprentice. If NBC reality/competition programming is something Morgan is open to, there's likely an open invitation to come back.
Even though Piers Morgan Live was cancelled by CNN, it still didn't mean his career was done at the network. According to Morgan, CNN President Jeff Zucker offered him a more limited role of doing 40 specials over two years. Upon seeing how slim the pickings are on the cable news front, he may regret not taking that offer and/or burning the CNN bridge by going after one if its biggest names in Cooper.
Success in America is unlike success anywhere else.
Piers Morgan is now experiencing the emptiness of when it's gone.
The question is: Is there anyone out there willing to take a big chance in filling that void?
— —
>> Follow Joe Concha on Twitter @JoeConchaTV
Have a tip we should know? tips@mediaite.com