Concha: Redskins Fans in Daily Show Ambush Could Make Legal Case Against Stewart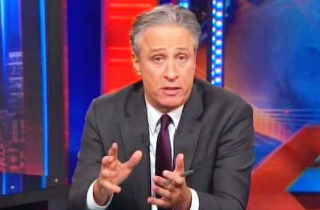 Before we begin, let's reiterate some facts about the subject: The Daily Show is a comedy show. It airs on the same network as South Park.
The program is also watched by approximately two million viewers per night. In recent years, its host–Jon Stewart–has been named the most influential man in America (AskMen.com in a poll of more than 500,000 readers) and the show certainly gets the attention of those who otherwise don't follow the news (a June survey conducted by the Brookings Institute determined that "Stewart and The Daily Show are now more trusted than MSNBC to provide accurate information").
So despite repeated claims by Stewart and all who defend the show that it's just comedy and everyone — especially stuffy conservatives — should really lighten up, the program — because of the aforementioned power and influence — still has the responsibility to at least be truthful, particularly when segments involving otherwise non-public figures are involved.
Exhibit A was on display Thursday night, when the Daily Show joined the "Me-too!" crowd of the Redskins controversy in a segment that those who legally participated in (by signing a waiver) have called misleading and dishonest.
Short version: Daily Show producers asked some DC-area fans to participate in interviews to defend the Redskins name. Note: the most recent major poll by Sports Illustrated says 79 percent of NFL fans don't find the name offensive and only 25 percent support a name change. Almost all polls including non-NFL fans basically fall in line with these numbers.
But here's how one fan, Brian Dortch, described the Daily Show experience to a CBS affiliate in Virginia: About three and a half hours into the taping, "in walked eight seemingly angry Native Americans who did not want to let us have a word at all." Dortch goes on to explain that he felt "definitely set up" and was disappointed, stating he specifically asked multiple times before signing a release form if there would be anyone else involved in the segment. "Nowhere in there did it say that we're going to pull some shenanigans. That we already told you, we were not going to do."
The CBS affiliate then asked respected civil attorney Keith Marcus if the four guests have a case against the Daily Show and Viacom if the segment were to air (which since asking Marcus, it obviously did).
Per Marcus: "Definitely the people could have a claim. If there was misrepresentation to what was to take place and if that misrepresentation then puts them in a bad light, they clearly might have something to work with."
And per the Washington Post:
The encounter at a Dupont Circle hotel was so tense that an Alexandria fan said she left in tears and felt so threatened that she later called the police. She has told "The Daily Show" to leave her out of the segment but doesn't know whether the producers will comply.
"I felt in danger. I didn't consent to that," said that woman, Kelli O'Dell, 56. "I am going to be defamed." A Daily Show producer allegedly told the panel in advance that no "cross-panel discussion" would be arranged.
Fast forward to Thursday, when Stewart told his audience and the estimated two million watching at home, along with the millions who will likely see the segment on YouTube and sites like Mediaite, that "…if we find out that someone in a piece was intentionally misled or if their comments were intentionally misrepresented, we do not air that piece. We would not air that piece. So that being said, I hope you enjoy the following piece."
Add it all up: Two people claim they were intentionally misled, and Stewart — he of a $30 million annual salary — simply mocks them before airing the segment anyway.
Oh right — keep forgetting — it's just a comedy show. People like Kelli O'Dell — likely an evil conservative who hates puppies and loathes anyone who doesn't look and sound like her — should learn what it means to have a sense of humor, right? It's only her reputation and integrity at stake.
But in Stewart's mind and from the perspective of his producers and staff, the millions upon millions who enjoy football and don't want the Redskins name changed like O'Dell and Dortch should be misled and ridiculed on national television for their close-mindedness…at least that's the way they were just portrayed to family, neighbors and co-workers, who will surely see the Daily Show piece in one form or another.
Meanwhile, you know why this alleged ambush had to be arranged and choreographed in the first place? Because there aren't any protests of note outside of the team's Landover, Md., stadium this year (FedEx Field). There weren't any last season, either, despite many in the media — those who have been silent about this topic for their entire careers for years and even decades — begging for it to happen.
Facts are stubborn things: The Redskins are still among the top three in the league in attendance despite having another horrible team, and have been for well over a decade. According to Forbes, it is still the third-most valuable franchise in the NFL despite not appearing in a Super Bowl in 22 years.
Here's the deal: The name changes when the owner of this private business — now worth $2.4 billion after purchasing it for $800 million in 1998 — decides it does, and that will be based on what the market ultimately decides. If fans revolt out of protest, that gets owner Dan Snyder's attention. But if you listen to him and most of his fan base — you know, the ones that buy the tickets and the jerseys and watch the games at home in overwhelming number — that ain't happening anytime soon, if ever.
If this was the ambush O'Dell and Dortch say it was, and it sure looks and smells like it, then they and the rest of the participants involved could conceivably sue Sumner Redstone and Viacom for appropriate damages. Stewart would be named as a defendant. And the tape of him flippantly dismissing any claims of wrongdoing would be played in court.
It's funny until it isn't. It's hypocrisy until it is.
— —
>> Follow Joe Concha on Twitter (@JoeConchaTV)
Have a tip we should know? tips@mediaite.com