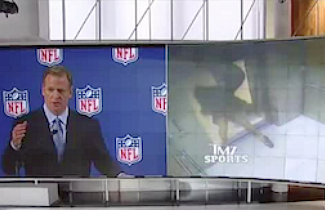 Ronald Reagan was often referred to as "The Teflon President" by Time magazine. The nickname originally came from then-Rep. Pat Schroeder (D), who lamented no matter what negative news or scandal hit Reagan, nothing ever stuck in terms of hurting his sky-high popularity.
In the 1984 campaign, Time's Evan Thomas wrote of Walter Mondale's challenging task of dethroning the Republican incumbent via his Tackling the Teflon President piece (which is fascinating to read now knowing how that election turned out). And two years later when Democrats took back the Senate, Time doubled down on the phrase (literally) in a piece titled The Teflon President's Teflon Coattails. Bill Clinton would go on to earn the nickname as well.
So while he may not be a president of the country, the next in line for the Teflon title appears to be one Roger Goodell, Commissioner of the National Football League. As you may recall, Mr. Goodell's job was once supposed to be in jeopardy following the Ray Rice and Adrian Peterson scandals. We were told by a majority of pundits on cable news and ESPN that the league was at a tipping point…that millions of fans (and especially women) from across the country were now turned off by the sport altogether by the domestic violence scandals featuring two of its bigger stars. As for the commissioner's handling of those situations, poll after poll showed he should lose his job thanks to a barrage of negative media attention no executive could withstand.
But a funny thing happened on the way to the decline: Fans — while horrified by the Rice video of him knocking his future wife out cold, and angered by photos of how a 4-year-old is disciplined in the Peterson household — still keep tuning in, continue to keep buying tickets. They may be voicing their displeasure of player conduct at a Saturday night dinner party, happy hour or at that fictional water cooler at the office, but come Sunday at kickoff, all is forgiven.
Through the first eight games this season, according to STATS, attendance across the league is at a five-year high (68,867/game). As for even-more-important TV ratings, the numbers are equal to or better than last season's average of 18.4 million/game. But are women turning away from the sport because of all of the domestic violence cases involving some of its top players in the news, which go beyond just Peterson and Rice? The answer is not even close, as more females than ever are tuning in than ever before (an average of 6.3 million females/game, according to Nielsen). And just today, NBC announced it has already sold 90 percent of its 30-second advertising blocks for this year's Super Bowl? The price for those 30 seconds? $4.4 million, another all-time high.
As noted in this space two months ago, those who watch pro football every Thursday, Sunday and Monday for hours on end are simply selfish creatures. We love our favorite teams, our fantasy lineups, our office pools, survivor pools, and in some cases, the local bookie. In fact, according to CNBC.com, up to $100 billion is gambled illegally on the NFL alone (or about $5 billion higher than the GDP of Slovakia).
Disgusted by the behavior of some players? Absolutely. Quit watching? Never.
Of course, this doesn't discount just how serious a problem domestic violence is. The AMA and FBI report that a woman is beaten once every nine seconds in this country, and 3-4 million are assaulted each year. As a new father and relatively new husband, its absolutely the last thing I'd ever consider. So if any good came out of the wall-to-wall media attention of Rice and Peterson cases, it's shining a light on an issue quietly growing in this country. Hopefully more women are finding the courage to come forward. Hopefully–and this still remains to be seen–Goodell follows through on its promise to be much tougher on players engaging in such cowardly behavior.
In the end, apparently two of the NFL's bigger stars negatively dominating the news cycle for two weeks–and especially cable news–by striking and "disciplining" their wife and 4-year-old child, respectively, with video and photo evidence to prove it, well…that all still wasn't enough to slow down a Teflon League with a Teflon Commissoner.
In fact, it appears the league is somehow getting more popular instead.
[Image via Fox/screengrab]
— —
>> Follow Joe Concha on Twitter @JoeConchaTV
Have a tip we should know? tips@mediaite.com