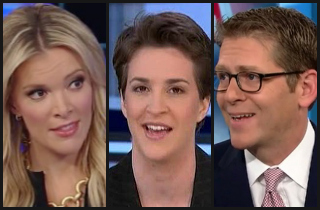 If presidential election night is the Super Bowl for cable news and social media, then the midterms are the first round of the NCAA Tournament. You have your matchups both big and small from across the country. Throw in a few gubernatorial races to keep the action constant, and all that's missing are the office pool brackets and Dick Vitale.
From an overall perspective, the 2014 midterms weren't surprising in terms of the big question going into the night: Will Republicans take back the Senate? Most major forecasts from late summer on indicated the GOP was going to accomplish the feat, with Nate Silver (fivethirtyeight.com), the New York Times and especially the Washington Post showing models with solid to almost certain chances it would happen (unless you hung your hat on Princeton's Sam Wang forecast, who somehow had Republican control chances at a 50/50 proposition and shouldn't be included in the conversation in 2016 as a result).
As we entered the week, the bigger question was just how many seats would go red. Would Kansas go "independent"? Could Democrat Kay Hagan–with late support from the Clintons and even President Obama–take the most expensive Senate race in history–beat the GOP's Uncle Thom Tillis in North Carolina? Will the new darling of the GOP—Joni Ernst–use her candor and good looks to take Iowa? Could Democrat Michelle Nunn at least send matters to a runoff in Georgia to soften the blow temproarily? All races were razor-thin going in. All–like the 2012 presidential election–took much less longer than expected to decide, but this time in Republican favor.
So with Louisiana going to a runoff and likely loss for Democrat Mary Landrieu, the GOP will take nine seats once Alaska gets sorted out via votes from rural areas being counted; Republican Dan Sullivan appears to lead comfortably enough there with a four-point lead as of Wednesday morning. But it was the gubernatorial races that proved to own the most shocking developments of the night, with deep blue states and seemingly invincible incumbents being vanquished. When the smoke cleared, Republican candidates–all big underdogs even as recently as last week–took state races in Maryland, Illinois (the president's home state), Massachusetts, and Arkansas (the Clinton's home state). Scott Walker of Wisconsin–who was briefly said to be vulnerable–won his third election in Cheesehead Country despite Democrats sinking in major money and resources to oust him. And Wendy Davis truly was a victim of redistrcting per Daily Show Co-Creator Lizz Winstead's interesting analysis last week, even losing the women's vote in Texas on her way to a resounding political-career-ending defeat.
So was this a wave? The numbers don't lie: Yes. Was it a referendum on Mr. Obama's performance, credibility and policies? Of course. Will this mean an end to gridlock in Washington–at least for the next year before the next campaign kicks in? We'll see.
So with all of this unfolding, more than a few remotes were working overtime mostly between Fox, CNN and MSNBC. If you are a Republican, you likely flipped to MSNBC right after a major call was made to see if a meltdown would take place, as it has in the past on live air there. But nothing like the Chris Matthews "analysis" post-first-Romney-Obama debate happened. Save for a few moments, the ideologically-aligned hosts and panel were relatively muted, perhaps already resigned to the long night ahead before the red light went on.
However, we did get a gem from Rachel Maddow when commenting on the results of the Colorado senate race, which was won handily by Republican Cory Gardner, who cruised to about a five point victory to become the first challenger to defeat an incumbent there in 36 years. The election night lead anchor explained to the audience that despite Gardner's solid victory in a state that voted for Barack Obama twice, Mr. Gardner won because he somehow ran to the left of Mark Udall. "Democrats," she contended "won the argument by losing the race." Well, there's something you don't hear everyday.
If you were a Democrat watching at home, you were praying some kind of breakdown would happen on Fox in the form of political analyst Karl Rove. Co-anchor Megyn Kelly–knowing full well of the moment when the two appeared on the same set again on an election night–which undoubtedly set off memories of 2012 and Rove's refusal to accept Fox's own crucial call of Ohio to President Obama–tried to inject some humor directly with him in addressing the elephant in the room–but let's just say Mr. Rove wasn't feeling nostalgic and quickly changed the subject. So the only thing close to head-scratching analysis came from Juan Williams, who kept insisting a wave wasn't occurring despite "every dam for the Democrats breaking down" (his words) via loses in Kentucky, Arkansas and Colorado to that point. Fellow liberal Kirsten Powers jumped in, calmly reasoning that it was impossible to characterize what was happening as anything but a wave.
Overall, with Bret Baier and the aforementioned Kelly anchoring as if they worked together on a nightly basis, Chris Wallace being Chris Wallace in the bullpen, and its pundits both conservative and liberal doing such a relaxed presentation, expect Fox–especially given the results–to have its biggest midterm night in its 18-year history by a country mile when the numbers come out later.
CNN had its moments as well. The good: John King played the biggest role of the evening, breaking down state by state and country by country without one "um" or even a pause to think. The guy knows his political geography better than anyone on the planet. Jake Tapper again earned more than his paycheck with reasoned, pragmatic, balanced perspective. And in terms of sets and presentations, CNN's–as it has in the past–really pops off the screen.
The bad: Former White House Press Secretary Jay Carney has proven to be a disappointment, however. Love him or hate him, his verbal brawls with the likes of ABC's Jonathan Karl and Fox's Ed Henry during daily briefings were snarky, oftentimes tense and fun to watch even if disagreeing with Carney. But on CNN, the 46-year-old seems muted. Why? Nobody is really challenging him and that takes away his best strength: The ability to debate while mocking an opponent simultaneously. Example: Carney making the argument that the president should have been invited to campaign in Colorado–that it would have made a big difference–should have been met with resistance and (based on the results from other states where the president actively campaigned) some ridicule from a right-minded pundit. But it didn't come in any confrontational way, making the moment fall flat.
On the social media front, to find the comedy in CNN's coverage, one only had to read Buzzfeed's Andrew Kaczynski feed…who was on an absolute roll commenting on the network last night:
What would CNN do if they found the plane right now?

— Andrew Kaczynski (@BuzzFeedAndrew) November 5, 2014
Jay Carney is just terrible at TV.

— Andrew Kaczynski (@BuzzFeedAndrew) November 5, 2014
Landslide RT @JamesFallows: CNN shows Scott Brown w 60% to 40% lead over Shaheen — with a total of 3 votes vs 2.

— Andrew Kaczynski (@BuzzFeedAndrew) November 5, 2014
Everyone here audibly laughing at Wolf Blitzer teasing GOP retaining House.

— Andrew Kaczynski (@BuzzFeedAndrew) November 5, 2014
So after months of countdowns, hyperbole and hype, the 2014 midterms are now (mostly) behind us. The NCAA Tournament of political theatre now decided. GOP wins big. Democrats lose even worse than expected. No more radio ads, no more punditry, forecasts and speculation on who controls what and why it's important.
Well, at least until the 2016 punditry, forecasts and speculation begins in full swing, which–from the looks of it–commenced about five minutes ago.
— —
Follow Joe Concha on Twitter @JoeConchaTV
Have a tip we should know? tips@mediaite.com