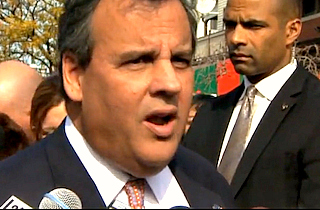 As you may have seen and heard, and really — if you visit Mediaite or watch any news channels, it's been impossible to miss: The old Chris Christie is back.
He's unapologetic. Brutally candid. A chip on both shoulders. Dismissive of those who either criticize him, threaten to sue, or both. He acts like a man who knows the storm that was Bridgegate is likely behind him, at least if a leaked Justice Department report turns out to exonerate him after weeks/months of breathless coverage by one cable news network starting with a letter "M".
But when you watch Christie tell a heckler to "sit down and shut up" like he did yesterday at a press conference in Belmar (Jersey Shore), or when you hear him say "Whatever, get in line" when asked about a possible lawsuit against him by the most famous nurse in the country right now, Kaci Hickox, it feels so…2013.
Know this: Even though Christie will likely emerge from Bridgegate without any criminal charges and/or a need to resign, he's still been permanently damaged by an irresponsible media hoard that convicted him without any real evidence earlier in the year. Proof? A recent Farleigh Dickenson University poll says Christie–who won with over 60 percent of the vote during the last gubernatorial election 12 months ago in a very blue state–is now underwater at 41 percent approval, 43 percent disapproval. The bloom is off the rose in the Garden State.
So when the usual pundits talk about 2016, Christie's name has gone from the guy who can beat Hillary to the guy with little chance to even sniff the nomination. Sure, he's out campaigning for those Republicans looking to become governor or hold on another term. And yes, he isn't in the same position as President Obama–who is so toxic that some democratic candidates refuse to admit they even voted for him two years ago.
But as a national candidate, Christie already had zero margin for error even before Bridgegate broke. The Tea Party/Palin wing has always dismissed him as another Mitt Romney…a Republican from the Northeastern blue state destined to fail in a run for the White House. Even his moderate allies are few. And with the poor approval rating he now owns in a state that once adored him for dishing it out without apology, Christie going back to being Christie is likely to turn off moderates and independents who could easily argue he doesn't have the temperament, the thick skin, to govern effectively on a national scale.
So when you see the 52-year-old now, it's like watching Mike Tyson late his career when he was getting beaten soundly by the likes of Holyfield and Lewis. With Iron Mike, the old scowl was still there. The physique never looked better. But the intimidation was gone. The audience no longer captivated…a shell of his former larger-than-life self.
The media, of course, still loves it when Christie mixes it up. On the major networks, ABC and NBC covered the story extensively. But did either touch the midterms now only five days away, as CBS briefly did with a story about outrageous spending in the North Carolina race? Nope. A sensational story about Christie landing haymakers with a protester over Sandy relief was all that was needed to check off the political coverage box for the day.
Chris Christie — a much thinner version of the governor that came to national prominence — made the kind of noisy return one used to expect all the time from him this week.
But when it comes to a return to the top of the 2016 polls, this all feels like an exercise in sound and fury, signifying nothing.
— —
>> Follow Joe Concha on Twitter @JoeConchaTV
Have a tip we should know? tips@mediaite.com