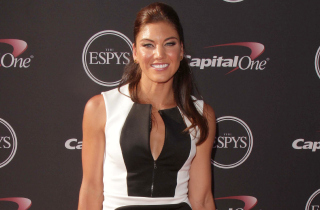 It's now over three months since Hope Solo was arrested on domestic abuse charges. But in the wake of all the attention–and there's been more than plenty–given to the NFL's Ray Rice and Adrian Peterson (among others) and their respective suspensions, the Solo case is starting to receive the spotlight it deserves as well.
In terms of major newspapers, the Washington Post tackled the topic on Friday. The New York Times offered up some stinging commentary on Sunday. And on Monday, the CEO of the United States Olympic Committee (USOC), Scott Blackhum, told USA Today's Christine Brennan the following:
"Abuse in all forms is unacceptable. The allegations involving Ms. Solo are disturbing and are inconsistent with our expectations of Olympians. We have had discussions with U.S. Soccer and fully expect them to take action if it is determined that the allegations are true."
Brennan adds that, "…it would have been entirely possible — and absolutely preferable, considering the nation's domestic violence climate — for U.S. Soccer and Solo to enter into some kind of an agreement in which she would have taken time away from the sport to deal with her personal and legal issues far from the soccer field." And Brennan–the most respected female sports journalist in the game right now–is exactly right.
Meanwhile, the soapbox that has become ESPN continues to ignore the story almost entirely. Of course, this is the same empire has also promoted last week's primetime match vs. Mexico featuring Solo, who broke the record for most shutouts in U.S. Women's Soccer history. Just like cable news, ESPN is more about opinion/debate shows now, particularly during the day. But Solo's case has barely has warranted a mention.
Sure, Kate Fagan of ESPNW.com has spoke out on the issue, demanding she should be suspended immediately from the team in a September 19 column. And Keith Olbermann took a few minutes off from his fire-and-send-Goodell-to-Gitmo special comments to finally address the Solo situation on Monday night as well. But the women of ESPN–those who have plenty to say about the NFL and domestic abuse like Hannah Storm and Jamele Hill–haven't touched the Solo issue on ESPN air as of Tuesday morning.
Note: Hill has been asked about the Solo situation on Twitter, where she condescendingly dismisses it because the public never "cared" about Solo until now. So Hill's prerequisite for what's newsworthy and what isn't is we need to care about the subject before any possible wrongdoing occurs? That somehow the sport he or she plays needs to be popular to qualify for coverage? Good thing Marion Jones–who competed in another sport nobody cares about outside of every four years (track)–and her controversy was ignored for those reasons, too…except it wasn't…especially on ESPN.
According to documents obtained by the Seattle Times, Solo–who was reportedly intoxicated at the time–charged her nephew, punched him in the face and tackled him. When his mother tried to intervene, Solo–a professionally conditioned athlete–went after her physically as well. A police affidavit states upon arriving on the scene, the nephew had scratch marks on his arms and bleeding was coming from his ear. But she plays soccer, so really…who cares, right?
Meanwhile, despite all of the discussion of doom and gloom for the NFL in light of its poor handling of the league's off-the-field issues, the league not only appears to be weathering the storm…it's actually increasing its popularity. For example, the Broncos-Seahawks game on Sunday was a ratings juggernaut, starting with a 34.6 rating/71 share in Denver on CBS and ending with a 45.6 rating/75 share. Among viewers aged 25-54 in the key demo, the game earned a a 25.2 rating/77 share and concluded with a 33.3 rating/80 share. Yup, an 80 share.
Nationally, the game (which was a one-sided snoozer until the final few minutes) was the highest-rated on any network over the weekend, earning an average 16.9 rating/32 share, up 16 percent from last year's 14.6 rating/28 share in Week 3. Just look at the ratings each week for the NFL against every other show on television. As George Will pointed out on Fox News Sunday, the three most watched programs of the week were all NFL telecasts (Thursday Night Football, Sunday Night Football, Monday Night Football).
Despite all the noise and grandstanding, Goodell and his $44 million dollar annual salary will survive. Money talks, and only the owners can fire him and they're not about to terminate a commissioner who is growing the league's revenue at a $1 billion/year clip. The public cares about important issues like domestic and child abuse. They'll talk about how shocked and dismayed they are when the names Rice, Peterson, Dwyer, Hardy or McDonald come up. But are we as a society principled enough to dismiss the sport when kickoff arrives? Not even close. In fact, the NFL appears to somehow be drawing more people in.
Rice will come back–probably in a year after some much-needed consoling…as will Peterson once his trial is over. For those who doubt this, look no further than the toast of Broadway, Hollywood and HBO, Mike Tyson. He was only convicted of raping a beauty pageant contestant once. And then there's dog killer Michael Vick, currently a member of the New York Jets. Both men served their time and have the right to work. Yes, Rice and Peterson will return, albeit with their reputations deservedly damaged forever.
In the meantime, Hope Solo–the recently-named captain of U.S. Women's Soccer–continues to play as the national team begins playing in qualifying matches in October for the 2015 Women's World Cup. Nike continues to endorse her.
But the media chorus is starting to slowly grow for her to be sat down.
Now the CEO of the USOC is speaking out as well.
The double standard here is finally beginning to get the attention it deserves.
[Image via Shutterstock.com]
— —
>> Follow Joe Concha on Twitter @JoeConchaTV
Have a tip we should know? tips@mediaite.com